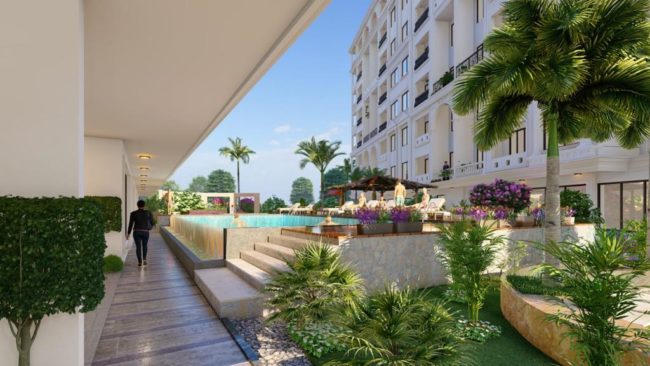 Purple Group started its ambitions journey in 2008 as one of the most trusted and respected names in the real estate arena with a primary vision of re-shaping the real estate landscape. Purple Group are pioneers in creating high-end living and commercial space with an opulent feel that enjoys unparalleled goodwill for its splendour, grandiose, luxury and comfort – all rolled in one. In Goa Purple Group takes pride to announce the launch of Purple's AMOUR located at Karaswada Mapusa, Goa.
Over the Past 13 years The Purple Group has completed about 11 Projects and continuing, more than 2.5 Million square feet of Constructed Landscape and has the blessings of 1500 + Happy Families. The Group is into Residential, Commercial, Resorts, Town Ship Projects, Restaurants, Interior Design.
Purple's AMOUR – is comfortably placed where life blossoms in the colours of sheer bliss. The project houses in a less dense population and provides a significant share of facilities and features to all individuals. The Project's grand entry welcomes you with all style and glory. There are open spaces to help people extend their world beyond the periphery of defined parameters. Purple's AMOUR offers Luxury Spacious 2 and 3 BHK apartments with areas ranging from 102 sq-mts to 114 sq-mts for 2 BHK and 147 sq mts for 3 BHK apartments, with Two Levels of Car Park and Large Comfortable 10 Passenger Elevators. The apartments are priced at Rs. 75 lakhs onwards.
As part of our Pre Launch Offer we are offering these apartments at Rs. 65.47 lacs onwards. This is a Limited offer for the First few Apartments only.
Purple's AMOUR is located at Karaswada Mapusa with an easy connectivity to Mapusa, Panaji and connecting towns in North Goa. The bustling neighbourhood with ample opportunities provides customers with an enriching residential experience.
Purple's AMOUR is an epitome of splendour, luxury and comfort with modern amenities such as Gated Complex with 24hr security, Grand Entrance Plaza, Plenty of Palm trees, Creepers, Water fountain, Indoor game area, Video door phone, Gymnasium, Club House, Party Hall kitchen, Society Office, Multi-Purpose Court, Walking track, Children's Play area, Senior Citizen sitting area, CCTV Camera at gate, Swimming Pool, Amphitheatre, Intercom and Landscaped Garden.
Mr. Kapil Taneja, Promoter and Chairman of the Company has been the visionary behind the growth and success of the Company. He has been spear-heading the group since its inception. With his immaculate planning, flawless business skills and eye for minute details he has taken the organizations' standing to the next level, completing over 13 years in the luxury housing segment. With a penchant for innovative thinking, he is a perfectionist when it comes to his projects. Under his leadership, a series of futuristic residential and commercial structures stand as recognized landmarks, splendidly painting the skyline of Rajasthan.
Mr. Pritam Shetgaonkar, Director –Purple Group, is spearheading Mukundraj Construction that is involved in Construction of Purple's AMOUR. Mukundraj Constructions established in 2010 has completed 28 Projects in Goa. Mr. Pritam Shetgaonkar brings to fore his vast experience in Goa's Real Estate.
This project has established a new category in Goa's real estate space and provide its residents with not only a premium home and infrastructure but also ensure safety, convenience and all round development for its residents. The concept is innovative and demonstrates the need and sign of the changing times by catering to the needs of today's young home buyer and enabling a new way to live.
Comment