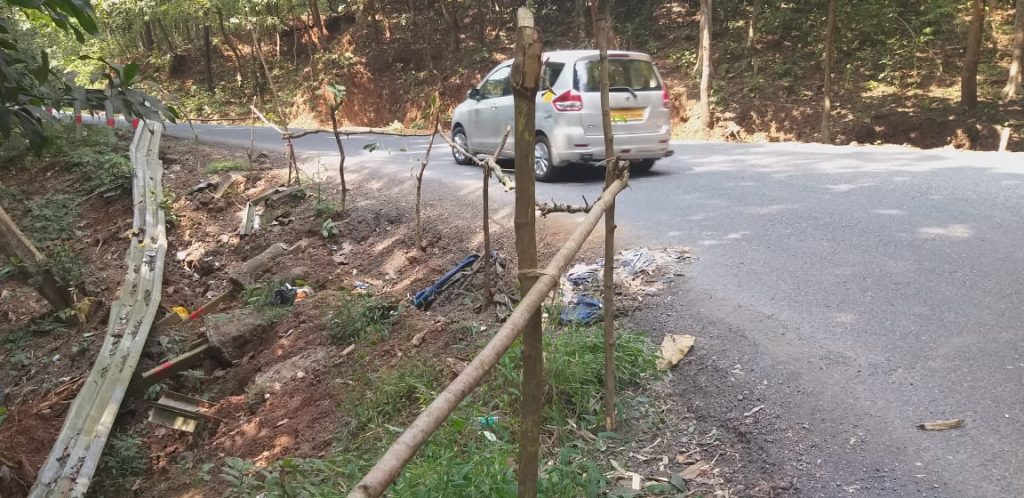 Goemkarponn desk
CANACONA – PWD (Highway) and National Highway Authority of India (NHAI), already in the line of opposition fire for not maintaining the NH-66 road in its true sense, have now come out with an out-of-the-box solution to the dangerous and accident-prone Sharp Curve at Karmalghat section.
The road authorities have erected wooden stick protection to safeguard the traffic/vehicles from going down the road at the dangerous Curve at Karmalghat.
Incidentally, the dangerous portion of the Karmalghat, which had Crash-barriers is frequently in hot news for frequent accidents and mishaps, at times large Vehicles going down the ravines below. Due to the regular calamities, the crash barriers, including its poles crashed into oblivion, destroyed and unrepairable as casualties continued unabated.
Recently, Canacona MLA and GLA Speaker Ramesh Tawadkar, who is regularly known to use the same route twice a day, had an on-the-site inspection of the dangerous Curve along with PWD officials and others. Tawadkar, after that, reportedly announced short-term/temporary measures to curb accidents at Karmalghat by road- widening and erecting proper safety walls within the next six months, while further promoting a permanent solution will take 2-3 years.
Incidentally, there are demands to fill up the deep ravine and erect a compound wall as a temporary solution, but erections of wooden sticks protection walls have surpassed many in Canacona.
Meanwhile, the Karmalghat section was once again in the news as Highways traffic was disrupted late Tuesday evening after an accident between two vehicles blocked the traffic till late night.
'only small cars and two-wheelers could pass/cross either side, from 6.30 pm to 10 pm, stranding the heavy traffic infinitely, while delaying of over 2 hours for smaller Vehicles. As the mishap on Padi side had choked the Karmalghat slope, Cuncolim Police sources finally informed the traffic was regulated after 10 pm; after the mishap, Vehicles was removed from the site.
Comment