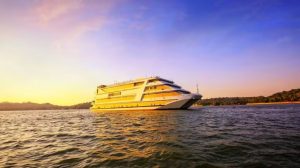 Goemkarponn desk
PANAJI: In a stock exchange filing on October 24, Delta Corp said that the Bombay High Court in Goa has examined the writ petitions submitted by both the company and its subsidiaries regarding the show cause notices issued by tax authorities and issued an order, prohibiting the authorities from making definitive decisions without prior court approval.
Furthermore, the casino gaming company noted that the court has set specific dates for the conclusion of arguments, hearings, and the final adjudication of these writ petitions.
"The Hon'ble High Court of Bombay at Goa considered the writ petitions filed by the Company and its subsidiaries on 23rd October, 2023. Basis a statement made on behalf of the concerned tax authorities, the Hon'ble High Court has directed such authorities not to pass any final orders on the captioned show cause notices without the prior permission of the Hon'ble High Court. Dates have been fixed for completion of pleadings, and the hearing and final disposal of such writ petitions," Delta Corp said in its stock exchange filing.
Delta Corp's total tax shortfall liability now stands at more than Rs 16,194 crore. In comparison, Delta Corp's market capitalisation is Rs 3,749 crore.
In its filing detailing the notices received by both the parent company, Delta Corp Limited, and its subsidiaries, it was revealed that Delta Corp Limited has recently been served with notices indicating a tax deficit amounting to Rs 1,11,39,61,03,423 (Rupees Eleven Thousand One Hundred and Thirty Nine Crore Sixty One Lakh Three Thousand Four Hundred and Twenty Three). Simultaneously, the company's subsidiaries, including Highstreet Cruises and Entertainment Pvt. Ltd. and Delta Pleasure Cruise Company Private Limited, have also received similar notices specifying tax shortfalls of Rs 32,89,94,41,744 (Rupees Three Thousand Two Hundred and Eighty Nine Crore Ninety Four Lakh Forty One Thousand Seven Hundred and Forty Four) and Rs 17,65,21,80,638 (Rupees One Thousand Seven Hundred and Sixty Five Crore Twenty One Lakh Eighty Thousand Six Hundred and Thirty Eight), respectively.
Comment