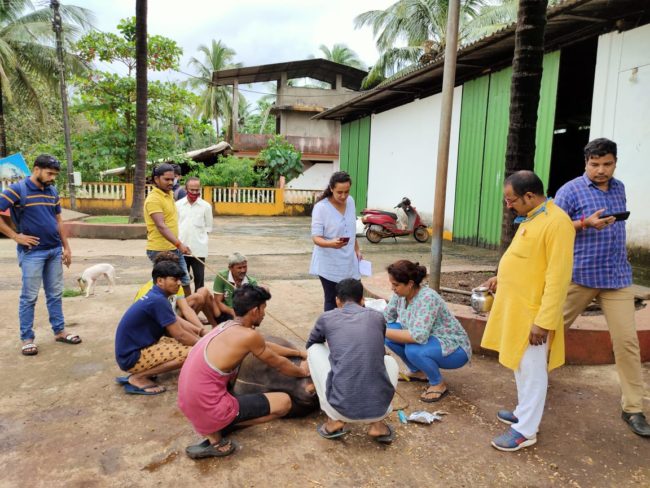 Goemkarponn desk
VALPOI:
So far, we have heard that if a human being loses their limbs, life can be normal yet again thanks to artificial limbs.
But what if the animals lose their limbs? Their lives could become miserable with nobody to take care.
There is a unique case in Jai Shreeram Gaushala wherein some great souls are arranging artificial limbs for cattle.
The cow's named Shiva and Gauri, who lost their limbs in tragic circumstances, will now have artificial legs, and their lives will be happier once again.
They will have the opportunity to overcome the endless difficulties that have arisen before them due to foot failure, which will pave the way for their future happiness.
The Gaushala in Nanus has been running a cowshed here for several years wherein many stray cattle who get injured are being treated.

Shiva and Gauri lost their limbs in a road accident and spent days in this cowshed badly.
However, now, two female animal lovers from Delhi, Sania and Tania, have decided to give them a new lease of life.
They have made arrangements for surgery and fitment of artificial legs at Jaishriram Gaushala at Nanus.
The two animal lovers visited Gaushala and checked Shiva and Gauri in detail.
They have also taken measurements of their limbs and said that they will be able to move around freely once the surgery is conducted.
Giving further details, they said the artificial legs are manufactured in Delhi.
"The measurements of this cows limbs will be taken to Delhi, and artificial legs will be made accordingly. After that, the prosthetic legs will be fitted to Gauri and Shiva. This type of surgery has been performed on many cattle so far," he said.
Hanumant Parab, chairman of the Jay Shriram Gaushala, said Sania and Tania have decided to help the cattle out of true love for these animals.
"They are ardent cow lovers. Their gesture will give the cattle a chance to live a happy life," he said.
He further said that there are hundreds of cattle in Valpoi Gaushala suffering from various ailments.
"They are being treated from time to time. However, as stray cattle roam the public roads, accidents occur at night and leg failure cases," he said.
He said the story of Gauri and Shiva is similar.
"Their legs are paralyzed, and they cannot move around, which makes them eat and drink in one place," he said.
Comment