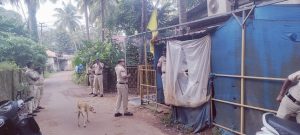 Goemkarponn desk
CANACONA: 'We are safe, we are living peacefully away from any limelight, neither do we anticipate any threat from anyone', Rabbi at Chabad House in Palolem said when approached in view of government extending security protection to Israelis living in Goa and certain other parts of the Country.
Led by a PSI, a strong pose police personnel stood guard outside the Chabad House in a rented property at Palolem on Friday, even as the inmates the Rabbi's family consisting of Wife and children were inside the Chabad House unperturbed by the outside world. In a partly glass house, some people inside could be seen rearranging some tables and chairs presumably for the night event (prayer Session), as the Rabbi who had gone out on his scooter, came back with another hefty man carrying a bag and directly heading inside, when this correspondent wished the Rabbi requesting to have a brief talk on the security and safety of the place in view of Israel and Hamas (Palestine) War-like conflict back to their home country.
'Yes, we are satisfied with the police protection and security cover. Incidentally, we used to have on ly 1-2 police stationed outside to guard our area, but now a dozen are standing outside', said the Rabbi to a specific question if the people coming to the Chabad are satisfied with the police protection cover. Rabbi, however, refused to mention the number of people visiting daily in the Chabad house.
According to the neighbours, the place is always almost on a daily basis full of Israelis joining for prayers at the Chabad house and disperses only past midnight.
Responding to questions, the Rabbi informed they are away from the limelight are living peacefully, and do not anticipate any threats from anyone. ' No, my country does not need me or my age people, but youngsters are required and called to fight for the country. I do not know about others, but yes some wish to go back and join the country's defence in the present day's conflict, and the rest may want to leave India and go back to Israel after everything cools down back home.', Rabbi said.
Honestly, since we are living peacefully without any problems, we wish to stay away from any sort of limelight.
Comment