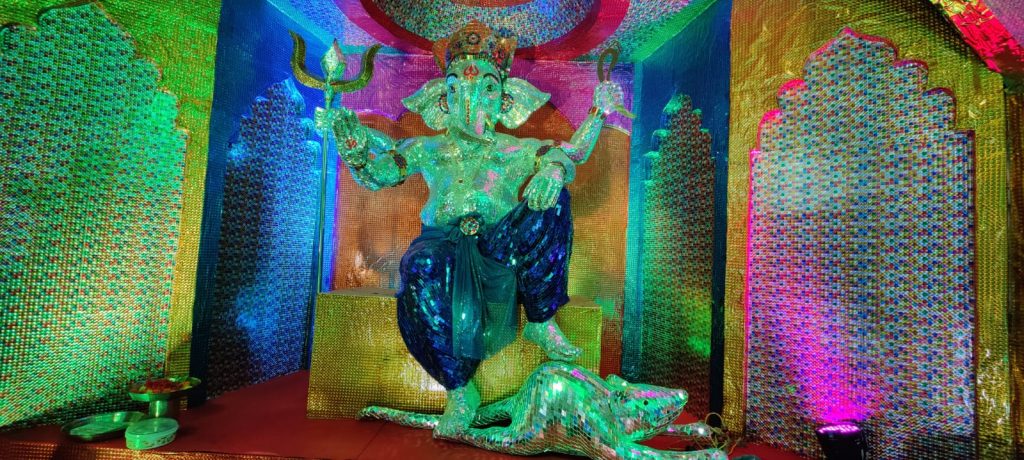 Goemkarponn desk
VASCO: Shantadurga Kala and Krida Sangh have made the largest Sarvajanik Ganesh idol of 12.5 feet, made of around 20 kg mirror glass pieces in Vasco.
Fondly known as Sambhajinagarcha Raja, this is also the only Sarvajanik Ganesh idol that has been worshipped for 21 days.
Speaking to the media, Santosh Naik said that the group has been doing Sarvajanik Ganesh for over 12 years.
"We have a different theme every year that attracts many people to our Pandal. We also have many cultural, religious, musical and other programs for people of all categories, from women to senior citizens and children. We also have lottery prizes every year that helps us with the donation for the program, and we take the mobile number of every person who buys the lottery, so he gets intimated of the prize in case he misses out on reading the newspaper. We have devotees coming from various places because many feel that prayers offered here are answered and have been donating gold items and even huge money every year. We could not have a grand celebration last year due to the pandemic," said Narvekar.
Ayushi Narvekar said that this year, she, along with other children, had made the Ganesh idol.
"This year, we made the idol of mirror glass pieces using around 20 to 25 kg of glass pieces, and it took us months in advance to create the idol. It took us around one month to make the idol, and we got a great response this year after a gap in the pandemic. The celebration here is unique, and we have also named our Ganesh as Sambhajinagarcha Raja that answers the prayers of all his devotees ." said Narvekar.
Kanaka Narvekar appealed to all the devotees to arrive at the Pandal to seek divine blessings and also participate in the Visarjan rituals.
"We get a lot of response from people from across Goa, and we have a huge rush even during our Aarti pooja. We appeal to the people to participate in the Visarjan rituals as we will have a Dindi procession across Vasco and have a grand visarjan of this idol this year. We also appeal to people from across Goa to visit our Pandal next year and offer their prayers here and seek the blessings of our Shambajinagarcha Raja," said Narvekar.
Comment