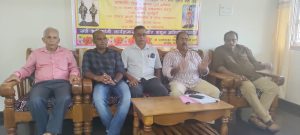 Goemkarponn Desk
CANACONA: Stating the allegations of Illegal construction at Palolem by Shri Mallikarjun Devasthan Shrishthal (Canacona) Committee is a hidden ploy by couple of Mahajans to grab Devasthan property. refutes any illegalities by Devalaya anywhere.
Addressing media over reports and social media posts of Illegal construction and blocking of access to the houses of Sevekaris including the house of Octogenarian Dr. Somnath Komarpant at Madeli-bhag (Ourem-Palolem), Shri Mallikarjun Devasthan Shristhal-Canacona President Vithoba Dessai refuted the allegations as frivolous and mischievous and is being done to defame one of the oldest and respected Religious Institution- Shri Mallikarjun Devasthan Shristhal-Canacona.
'Ever since taking up the charge of the Committee, we duly elected committee as authorised by the Mahajans have prioritised to keep the flame of religious rituals and practices burning in the right earnest as well as bring back all the Devasthan property back under the active control of Devalaya '. Vithoba Dessai informed flanked by Attorney Pramod Naikgaunkar, Treasurer Sachin Naik and two Ex-President's of the Devalaya Rajendra Dessai and Anil Naikgaunkar.
According to Dessai, Shri Mallikarjun Devasthan Shristhal-Canacona is the richest of the Temple body having hundreds of land properties all over the State of Goa as big as 11 lakh Sqms plots and while most of the land is in possession of Mahajans, Sevekaris for Occupation and Cultivation, still lakhs of Devasthan land is lying idle.
'As authorised by General body and since bringing back Devasthan property back on the track, we took up a survey of various lands belonging to Devasthan, and began to approach the same physically, understand the sentiments of the occupants and even successful to take back around 1.5lakh sqm of lands at various places like Mokhard, Devabhaga and planted and carried cultivations.
Similarly, began the process to take back control of Devasthan land (7500sqm) at Madeli-bhag (Ourem-Palolem) and part of which is in possession of Sevekaris and accordingly conducted survey of the area to identify the vacant Land. Interestingly, we found 11 names in other rights coloumns while owner is Shri Mallikarjun Devasthan, but as Sevekari families extended over a period of time, some more structures came up and even commercial activities/shops also cropped up without consent of Devasthan.
However, providing all the access to the existing Sevekaris and non-Sevekari houses keping it intact, we only had tried to secure vacant area by way of digging trenches. We had in no way did any construction as alleged in a complaint by Sandeep Naikgaunkar, who Incidentally is a Mahajan and no where resident of Madeli-bhag. No illegal construction is made at all and our
only intention is to take possession of the vacant land. Neither, we(new committee) nor any committee in the past has even demolished any houses of anyone or anybody. Irrespective of the illegal occupation be it by Mahajans, Sevekaris, Kull, we will reclaim Devasthan property.
Sandeep Naikgaunkar and Pravin Naikgaunkar, both Devasthan Mahajans by way of their frevivolous allegations are only demeaning the image of Devasthan. No committee ever have demolished any houses in devasthan property.
There is no provision to sell Devasthan property. Since the complainants are filed with the authorities,
Authorities can verify if any Constructions are taking place or any pathway is blocked of anyone as there are 16-17 residents stating in the area and digging is carried out at 13 places at Madeli-bhag.
Dessai also informed, that in order to increase revenue of Devalaya
Land ownership will not be allowed to be compromised, however, peaceful occupation by
chall, khull, Sevekari, Mahajans religious pathways will not be disturbed'.
Vithoba Dessai, 'Interestingly, no Sevekari from Madeli-bhag has any issues with the Devasthan, and interestingly, the name of Dr Somnath Komarpant bring circulated as a Sevekaris to whom Devasthan is committing injustice, is not a Sevekari at-all. Dr. Somnath Komarpant has never done any service (Seva) of Shri Mallikarjun, and moreover, when we approached Octogenarian Komarpant, who lives elsewhere for ages, and has a house at Madeli-bhag presently occupied by his neice has no issue with the Devasthan atall, even as Devasthan inspite of he not being Sevekari has not disturbed his occupation of Devasthan property at Madeli-bhag (Ourem-Palolem)'
Comment