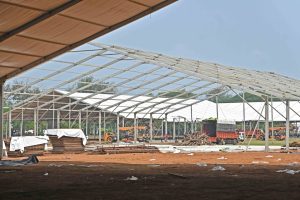 Goemkarponn desk
PANAJI: Alleging that corruption has taken place in the 37th National Games hosted by Goa, the Congress has demanded an inquiry by a sitting judge.
Goa Pradesh Congress Committee's General Secretary Viriato Fernandes on Thursday addressed a press conference and slammed the BJP government for looting taxpayers' money on the pretext of conducting national games.
"Substandard work has been done wherever the games are taking place. The temporary overlays erected at many places are not safe due to substandard work. I demand a safety audit and repairs/corrections to avoid unfortunate incidents," Fernandes said.
He said that all the rules have been flouted during the tendering process. According to him, for the last nine years the Goa government was aware that national games would take place, but still it failed to build infrastructure and provide facilities.
"National games are like a project and hence a project management firm has to be hired to oversee the entire process and conduct games. These firms do all tendering processes in a transparent manner as per Goa financial rules. But here the process has been violated," he alleged.
"As per rules there have to be three bidders or there has to be re-tender. But no rule has been followed here," he said.
"Corruption began from day one and Goan companies did not benefit from the hosting of the games," he said.
"Prime Minister Narendra Modi said that infrastructure created for national games will help the youth, but the stadiums were already there and the temporary overlays which were erected are substandard and they will be dismantled once the games are over. In whose pocket has the money gone?," he questioned.
"People of Goa have not benefited. At least catering should have been given to Goa as our cuisine isappreciated by many in the world. But it has been given to a Delhi-based company," he said.
Comment