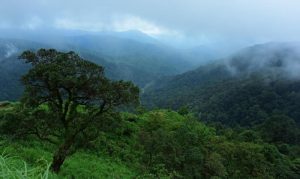 Goemkapronn desk
PONDA: United Tribal Alliance Association (UTAA) President Prakash Velip said that Government should protect tribals residing in Villages in Canacona, Sanguem, Sattari and Dharbandora, which are coming under the ecosensitive zone of Western Ghats.
He said once around 56 villages in three talukas, out of which 38 are in Sanguem and Dharbandora, and the rest in other talukas are declared eco-sensitive zone, the villagers' interest will be affected.
"There will be a lot of restrictions on villagers, including the construction of roads and other activities. There is a need for the State government to take steps to protect their interest. Because 80 per cent of the population is tribal in these talukas," he said.
He said Central Government has decided to declare the Western Ghats as an eco-sensitive zone.
"The Western Ghats passes through six states of Maharashtra, Gujarati, Tamilnadu, Goa, Karnataka and Tamilnadu covering a total 57000 sq. kms area and this includes Goa covering 1461 sq. kms area of Sanguem, Dharbandora, Canacona and Sattari," he stated.
Velip said Chief Minister Pramod Sawant should help get Political reservations for tribals in Goa Assembly by 2024.
He said Goa missed Political reservations in four such assembly elections. He also urged the Government to help tribals in taking delegations of tribals to PM and President for their demand.
Similarly, he also demanded that SC, ST and OBC should get a reservation for PG courses at GMC and Dental College.
"The government had promised to give a reservation by 2021, but some people approached the court, and it was postponed. But now all hurdles are clear Government declared this Reservation at GMC at the earliest," he said.
He also declared that tribals will celebrate the Birsa Munda Birth anniversary all over Goa, and the main function will be held at Rajiv Gandhi Kala Mandir on 15 November.
He said Birsa Munda was the first tribal leader in India who fought against the British to protect the interest of tribals during the period 1875 -1900.
Comment