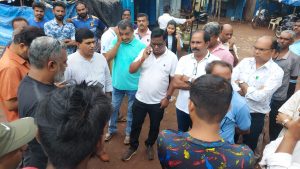 Goemkarponn Desk
Vasco MLA Krishna Salkar along with Mormugao Municipal Council (MMC ) Chairperson Leo Rodrigues, Chief Officer Jayant Tari and other Councilors carried out a joint inspection of the Old Power House at Baina.
Speaking to media later, Vasco MLA Krishna Salkar said that the works on the long pending Old Power house project in Baina would be taken at the cost of Rs 18 crores.
" We are coming up with a commercial project at this site and we have arrived here for an inspection and discussion with the stall Owners here to shift to a different location before the 1st of July , so that we can start this project to which the stall Owners have agreed.
We will shift all the stalls to a new location near the Kamat Garage Baina ,where we have built temporary stalls by Monday or Tuesday so that we can vacate the area and start the project. This commercial project will help generate revenue for the Municipality and make it more stable financially.
We have also told the stall Owners that they will be accommodated again in the new project once it is completed and the Municipality will give them a written assurance on this . " Said Salkar
MMC Chairperson Leo Rodrigues said that project was being taken under GSUDA
" Salkar has been very instrumental to get the files cleared and ensure that the project is passed. We had told the stall owners a month in advance that they will have to be shifted temporarily to a new location near Kamat Garage Baina we have come here again to hear any grievances or doubts that the stall Owners may have . The stall Owners have agreed to our request to shift to a temporary location for around 18 months till this project is completed." Said Rodrigues
Ward councillor Deepak Naik said that this old Power house project was his dream project and that he had even mentioned it in his election Manifesto
" Baina does not have much facilities and amenities and this commercial project will give all the required infrastructure boost to the area. The project will have shops, commercial offices , A restaurant and three halls( one AC and two Non AC Halls ).
This will ensure that MMC gets income while providing the much needed boost to this area. We have requested the stall owners to shift to a temporary location and they have agreed to co-operate with us. We will finish the shifting stalls by Tuesday and works on this project will start by 5th July. The project will be completed within 18 months but we are trying to finish it earlier , possibly within a year ." Said Naik
Councillor Girish Borker said that Vasco MLA Krishna Salkar had taken a massive development on a large scale across the Vasco constituency
" This will be a great project with a very huge building that will house restaurants, AC and Non AC Halls , commercial establishments and shops
This will generate revenue to the MMC and many of the projects will be seen completed in five years " said Borker
Comment