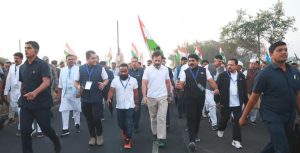 Goemkarponn desk
INDORE: As Rahul Gandhi-led Bharat Jodo Yatra entered Indore in Madhya Pradesh, Congress ally Goa Forward Party (GFP) joined the campaign in a bid to show unity.
GFP President Vijai Sardesai, General Secretary (Org) Durgadas Kamat and Mandrem Leader Deepak Kalangutkar led the march alongside Rahul Gandhi and other Congress party leaders.
"Joined Bharat Jodo at Indore at the invitation of AICC & as an alliance partner of INC India in Goa," said Vijai.
He further said that the message of unity among all people is highly relevant today, something we, as a political party in Goa, have been stressing for years.
GFP General Secretary Durgadas Kamat said that he, along with party President Vijai Sardesai and party colleagues Deepak Kalangutkar and Santosh Sawant, joined Bharat Jodo Yatra at Indore to express their support for Unity and Harmony.
Meanwhile, Chief Minister reacting to Vijai Sardesai's support for Bharat Jodo Yatra said that those who are promoting Bharat Jodo could not join Goa with India earlier.
Goa Forward Party (GFP) president Vijai Sardesai was perhaps the first to advocate Opposition unity in Goa. He had said, much ahead of the legislative Assembly election, that Opposition parties need to come together as 'Team Goa' to take on the BJP in the 2022 Assembly polls.
Goa Forward had officially joined forces with the Congress for the recently held Assembly elections in the State. The alliance was announced at a press conference in Panaji on December 18, 2021.
In 2017, the GFP played the role of a kingmaker by providing the BJP with three critical seats, which allowed it to stake a claim to form the government.
Comment