WALK AMONG THE ROCKS heritage tour held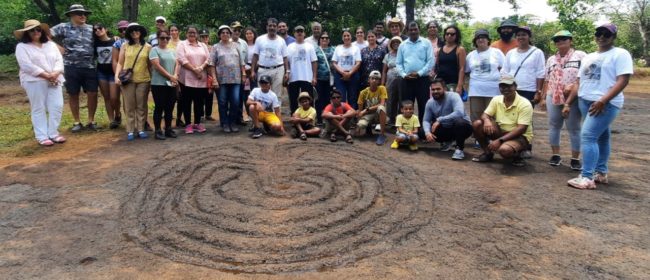 Goemkarponn desk
CHICALIM: The Chicalim Bio-Crusaders conducted a one-day Goa's Heritage promotion tour titled 'WALK AMONG THE ROCKS' on Sunday, 29th May.
As per the information provided by Cyril A. Fernandes, 40 Chicalim residents, besides others, were taken on a guided tour to megalithic Usgalimol rock carvings, Kajur rock art and the pre-historic burial site near Paik-Dev temple in Kajur.
The group also covered other historical sites such as both the Rivona Buddhist caves, the 11th-century Narayandeo temple and the Gopinath temple, where the bubble lake (budbudyeanchim Tolli) exists in Neturlim. The heritage tour wound up with the last stop being the submerged village of Curdi in the catchment area of the Selaulim Dam.
Here, the walk participants, consisting of school children as well as adult professionals, teachers and senior citizens, were shown the Bhosle bandh and the Buddhist cave as well as the sites of the transplanted Mahadev temple and Mother Goddess.
Cyril said that the focus of the tour was Goa's history and heritage from the megalithic period to date, re-tracing the earliest footprint of man in Goa from the Stone Age to the present.
The guided tour was facilitated by Cyril Fernandes, convener of Chicalim bio-crusaders and was aided by Kaveena Fernandes, a student of Deepvihar High School.
Explaining the various features of heritage that exist in Goa, Cyril Fernandes emphasized the need to preserve our heritage wealth handed over to us by our previous generations and the earliest inhabitants of our lands.
He welcomed the earmarking of the Usgalimol Carvings s site for declaring it as a World Heritage site. He claimed that with such a development. The global interest would be focused on Usgalimol, and it would receive the right impetus from conservation authorities. Usgalimol is our richest heritage wealth to date, he claimed, and it is our constitutional duty to protect it.
Comment