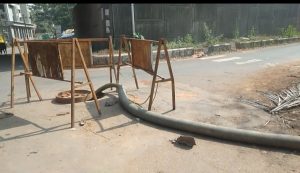 Goemkarponn Desk
PONDA: While there talks to save Mhadei water, the Ponda 's underground water resource pumped out from sewerage chambers and flows into Zuari river for twenty four hours.
Well before the Ponda Sewerage Pipeline network and sewage chambers flows with sewage and get treated they are flowing with ground water forcing officials to drain out the water from sewage chambers. If this situation prevail how STP will treat the sewage is biggest question posed by locals.
It may be recalled that in 2016 government started work on Rs 530 Crore ,15 MLD Sewerage Treatment Plant for Ponda at Kavlem.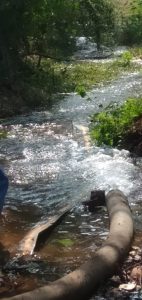 However it's six years passed now the STP work is still pending. Hundreds of sewerage chambers are dug in Ponda on Main road.Even the work is pending every year the sewerage department pump out lakhs of liter from sewerage chambers thus wasting it's precious ground water.
This pumped out water can be used for Industrial use or gardening but it's drained into main nullah which later flows into Zuari river.
Since past month day and night the pumps are operating to drain out the water collecting in sewerage chamber located near Municipal garden.
Similarly since past few days the water is pumped out from sewage chamber at Dag Ponda.
Now where does water comes into sewerage chambers. According to locals This chambers are dug seven to eight meters below the level of Ponda main nullah.
Beside this Ponda is also surrounded with hills and water from springs also sepages into sewerage chambers. The springs in Ponda gets recharge in Monsoon but as eight to 12 meter Sewage chamber are dug in ground they gets recharge with spring water.
Ponda Locals fear that If this continued than it functioning of Ponda STP would be difficult as sewage chambers gets full with spring and ground water tables.
Comment