AAP Parivartan Yatra continue in St Cruz, Ponda & Curtorim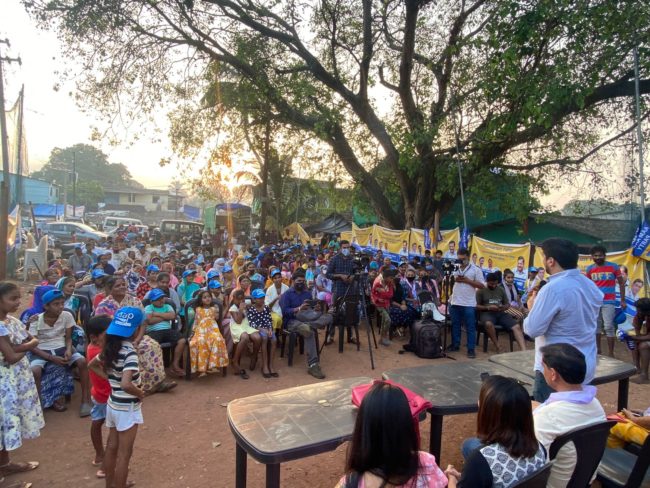 Goemkarponn desk
PANAJI: Aam Aadmi Party held its 'Parivartan Yatra' campaign in St.Cruz, Ponda and Curtorim on Sunday and received overwhelming response for its campaign.
While addressing the gathering during the 'Parivartan Yatra' held in St. Cruz, Adv. Amit Palekar AAP leader said, "Prior to the elections, this area is Indiranagar, but after the elections, it is a slum area. The politicians use Indiranagar people to play the vote bank arithmetic. Indiranagar's children are ashamed of their place and claim to be from Chimbel when asked. Politicians have ruined their future".
"As a result of Covid, many residents lost their jobs. They were in need, yet nobody from the government offered them support. Only AAP and a few NGOs provided them with food and groceries. People need a livelihood option. People need dignity. Chimbel people need a change, and only AAP can provide that", he said.
Domnic Gaonkar, AAP senior vice president from Curtorim said, "With ageing comes health complications. With no health center in Raia, senior citizens are forced to travel to Margao for treatment. When the AAP comes to power, a health center will be built in Raia".
He said, "The Curtorim area is a place where the government can promote hinterland tourism. However, neither the MLA nor the MP did anything to promote tourism. The MLA only cared for his own development. If he had promoted hinterland tourism, it would have benefited our youth."
Adv. Surel Tilve, AAP vice president said, " Do we get work done from older people? No. So why do we bring older people into politics? All the senior political leaders in the state need to rest".
"People trusted Congress, but BJP bought the Congress MLAs. This is why ordinary people are paying higher water and electricity bills. Petrol prices have crossed 90 rupees, and gas cylinders are running into the thousands, he said.
He further said, "The Sawant government, a copycat government, launched the "sarkar tumchya dari" campaign, a copy of the doorstep delivery program started by the Kejriwal government in Delhi. These politicians were nowhere to be found when people needed residence certificates and all other certificates. This campaign is just a political gimmick where they have spent crores of rupees and accomplished nothing.
Comment