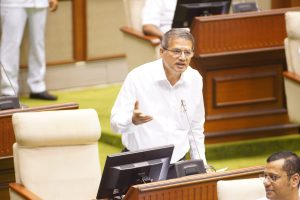 Goemkarponn desk
PANAJI: Aldona MLA Adv Carlos Alvares Ferreira demanded for an inquiry for what he alleged was a major scam running at the Goa Tourism Development Corporation concerning a tripartite agreement signed between the Goa Tourism Development Corporation and two other private parties for the hire and operation of a boat called Nirvana.
"The GTDC had given a contract to Marine Tech Ship Managers and Surveyors in November 2018. An SPV was formed and a tripartite agreement was executed with the operators. The charter period was 20 years. And the GTDC is paying 19.80 lakh per month + GST. Charter fees to the operator have an escalation clause of 5% every year, Adv Ferreira, said while speaking in the Legislative Assembly while replying on the demands for grants to tourism.
"If you are going to pay Rs 19-lakh per month multiplied just by 10 it becomes two crores — 2.40 crore you are going to pay excluding GST? I think you are going to be draining your coffers. I think the government must order an inquiry into how this has happened and how the money is flowing. I have also come to know that the Goa government has given an advance of Rs 2 crore to Celestial Cruises and Hospitality at Interest Free rates," he added.
"The government of Goa is paying port charges, bunkering — fuel, lubrication, oil, consumables, water. Everything it is paying. Water requisition you have to pay, On/Off fire surveys you have to carry out. All surveys, major repair, GTDC.
"I think the Goa government must review this, because you can't drain out your funds to make payments to an operator who will make merry and you will only collect a revenue of petty amount of ticket sales. How much will you get on a ticket? And you are going to pay lakhs of Rupees," he said.
"We should have had certain guarantees and clauses . I demand that the government should examine this, look at the legal aspect of this. You can terminate this agreement and make sure that the government stops payment. I can understand if you pay for a boat, they give you a boat and then you run the boat. But it is not this way. You give the money, they build the boat and give somebody else to run. This is the way it is going on. So I demand that at least stop this and get sanity back," he said.
Comment