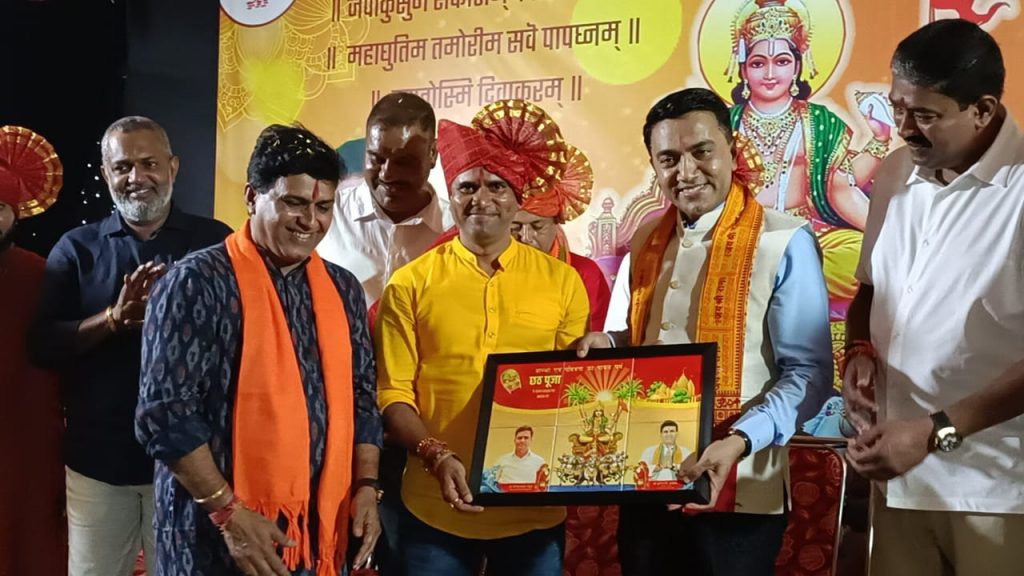 Goemkapronn desk
VASCO: CM Dr Pramod Sawant on Sunday said that Baina beach would be developed with infrastructure and other amenities to boost tourism activities.
Sawant spoke to reporters after attending the Chath pooja at Baina beach in the Vasco MLA Krishna Salkar, Mormmugao MLA Sankalp Amonkar, Chicalim Sarpanch Kamla Prasad Yadav, MMC Chairperson Leo Rodrigues and other BJP dignitaries.
"Vasco MLA Krishna Salkar has been organizing this Chath Pooja for the last five years at Baina beach, and I congratulate him for getting people to the Baina beach, which was once very infamous many years ago. This pooja organization at the beach has increased its positivity, and we will total develop this beach with all infrastructure and the required facilities and amenities like the changing rooms, toilet facilities etc., to boost tourism activities here," said Sawant.
"The Highway along the beach is also an attraction by itself as it is a very beautiful and the only coastal highway and many people come here and this Baina beach stretch will be developed entirely as one of the tourism spots. The Chath pooja has displayed unity in diversity, and we congratulate MLAs Krishna Salkar and Sankalp Amonkar and extend our wishes to the devotees," said Sawant.
Vasco MLA Krishna Salkar said that the presence of devotees for the Chath pooja had been rising every year.
"We have a large number of North Indians in Mormugao Taluka who observe the Chath pooja, which is the festival of the Sun God, and we have now seen that Goans are also participating in this pooja. We had around 4000 devotees who would arrive here initially, but today we have seen around 10,000 devotees at Baina beach, and I want to thank the team of the United Veterans Federation and the entire BJP team for this program." Said Salkar.
"The Baina beach has been neglected over the years, and this Chath pooja has become a stepping stone towards the development of this beach. We are glad that the CM has assured now that this beach will be developed, and Tourism Minister Rohan Khaunte has also assured that the beach will be developed. I feel that this is the blessing of "Chathi Mayya" which is worshipped on the beach over the years.
Mormugao MLA Sankalp Amonkar said that thousands of devotees from the entire Mormugao Taluka had arrived at Baina beach to celebrate Chath Pooja.
"People have expressed their belief in the BJP Government and come out in large numbers while showing that the people are united and north Indians and Goans are celebrating a festival together. The CM, Dr Pramod Sawant, has assured to support us to develop Baina beach to boost tourism activities, and I have told the CM, Dr Pramod Sawant, to resolve the major issue because Baina is the only beach where shack owners have to pay fees to the tourism department and also to the Mormugao Port Authority who claim their rights on this beach," said Amonkar.
Comment