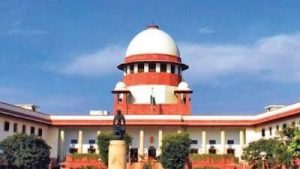 Goemkarponn Desk
PANAJI: In what could give some relief to the Goa government, the Supreme Court has restrained Karnataka from undertaking any construction work of its proposed Kalsa-Bhandura project without obtaining all the requisite permissions from the concerned authorities including Goa Chief Wildlife Warden.
The matter is now listed for a final hearing in July 2023.
The Supreme Court, while hearing the IA filed by the Goa government, today said that under Section 29 of the Wildlife Protection Act, the Goa Chief Wildlife Warden's permission is mandatory for the diversion of the River from the sanctuary area.
The Court said that the matter is pending before the Goa Chief Wildlife Warden for decision.
Updating on the hearing, Advocate General Devidas Pangam said SC today recorded its earlier order that stated that Karnataka cannot go ahead with any construction activities without obtaining all the required permission.
Pangam further said that the Court pointed out that the restraining order remains in force to date.
"SC also said that matter is pending before Goa Chief Wildlife Warden who will decide whether Karnataka can divert the water of Mhadei from the sanctuary under section 29 of the WLPA," he said.
The Apex Court has also directed Karnataka to furnish copies of all the detailed project reports (DPR) submitted by it and permissions granted by the CWC.
"According to me, this is the best order we can get. Now it is in the hands of our own chief will Warden to take a decision on the project," he said.
Pangam said that as per Court's direction today, Karnataka cannot go ahead with the project without obtaining all the permissions.
Further, AG said that the Supreme Court emphatically held that the matter is sub-judice before the Chief Wildlife Warden and that any construction proposed by the state of Karnataka will be subject to his orders.
"State of Karnataka stated that no construction has commenced at the Kalasa and Bhandura sites. And that they will not conduct any construction unless the requisite statutory permissions have been obtained, including that of the Chief Wildlife warden," he informed.
Last month, the State government filed an IA praying to stay the approval granted by the Central Water Commission (CWC) to the DPR submitted by Karnataka to divert River Mhadei water through the Kalasa-Bandura nulla projects.
The Goa government had vehemently opposed the approval granted to Karnataka's DPR because water must be diverted from one wildlife sanctuary to another sanctuary by obtaining mandatory clearances as per Section 29 of the Wild Life Protection Act.
Also, the Chief Wildlife Warden has already issued a show cause notice and stop work order to the Karnataka government for carrying out work in the Mhadei river basin.
Goa has contended that Karnataka cannot carry out any construction works in the Kalasa-Bandura region as per the SC verdict.
Comment