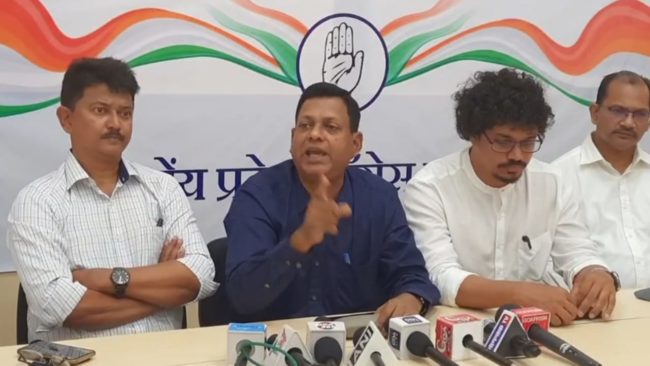 PANAJI: Condemning the act of NCZMA for rejecting the plea of deleting the port limits in the Goa Coastal Zone Management Plan, Congress party charged that despite knowing that the port limits has the potential to usurp the powers of the state and local bodies, the BJP government failed to protect Goa.
"It is the conspiracy of BJP to sell Goa to crony capitalist." Congress leaders said.
Congress spokesperson Olancio Simoes and Chairman of Professional Congress Elvis Gomes, Chairman of Research Department Avinash Tavares and Capt Viriato Fernandes, Orville Dourado, Jason Silveria, Ramiro Mascarenhas and Siddharth Karapurkar on Wednesday addressed a press conference in Panaji and condemned the act of BJP government.
Simoes said that the Congress party condemns the rejection of port limits and of not including sand dunes in CZMP. "Why is only Goa under the port limit." He questioned and added that BJP is trying to make the Sagarmala project a reality by destroying the environment.
"Goa has a beautiful coastline only because of sand dunes. No other state has such sand dunes. Our livelihood and tourism is dependent on the coastal line. But the BJP is trying to destroy everything." Simoes said.
"We warn the Goa government and central government not to destroy the beauty of Goa. Why is Chief Minister Pramod Sawant mum over this issue." He questioned.
He said that the Goans have been demanding that the port limits be deleted from the CZMP because there is no provision in the CRZ Notification 2011 for showing the same.
Elvis Gomes said that the state government will have no authority over the coastal area. "BJP has bulldozed the rights of State. Now people residing and doing business in a coastal area will have to seek NOCs from Mormugao Port Authority." He said.
Elvis Gomes promised to give justice to the people after the Congress government was formed. "Area near ferry ramps in Panaji is also occupied. In this situation, how would the rescue operation be done if the ferry gets drifted during bad weather conditions," he questioned, pointing out how the BJP government has sold Goa to crony capitalists.
Capt Viriato Fernandes said that BJP is hatching a conspiracy to finish the coastline of Goa. "We will fight until we get justice. BJP has become slaves of crony capitalist and bring coal in Goa." He said.
Comment