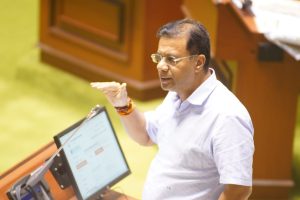 Goemkarponn desk
PORVORIM: Forest Minister Vishwajit Rane today said that the state's lone zoo, located in Bondla, is undergoing gradual renovations as part of a Rs 100 crore master plan that has been authorized by the Central Zoo Authority.
AAP MLA Cruz Silva brought up the subject on the House floor on Thursday during the assembly's ongoing monsoon session. Silva emphasized that the zoo's miserable circumstances had caused it to lose some of its former splendor.
Rane responded to the query by stating that Bondla Zoo receives 80,000 visitors each year. He acknowledged that the institution is in terrible shape.
The strategy for the zoo's repair and upkeep, according to the minister, has already been created and approved by the Central Zoo administration. According to him, the state will incur a cost of Rs 100 crore for the plan's implementation, which is why it will be carried out in stages.
He said that a separate fund has already been established for the state government to receive investments from private individuals or businesses. The revenue will be utilized to upgrade this zoo, according to the minister.
"Those who are animal lovers or environmentally conscious persons or companies can contribute to this fund," he stated.
According to the master plan, new enclosures will be built for animals like tigers, leopards and sambar, along with other upgrades to showcase the diverse fauna of the Western Ghats. The new plan has been prepared as per the guidelines laid down by the Central Zoo Authority.
The Forest Department has also proposed the procurement of exotic birds and acquisition of barking deer, pheasants, exotic primates, iguana, mouse deer, grey jungle fowl among others.
The Forest Department had in 2008 drawn up the first master plan, over which the Central Zoo Authority had raised certain queries. As per that plan, the area of the zoo would have increased from 10 hectares to 40 hectares.
Comment