Goemkarponn desk
CURCHOREM: Don't mislead people by just spreading propaganda; talk about what you will do next in the Curchorem constituency; BJP Curchorem candidate Nilesh Cabral retaliated against Curchorem Congress candidate Amit Patkar.
Cabral, during his campaign, said he (Patkar) is trying to spread propaganda against me but does not say what he is going to do next Curchorem constituency.
He further said that the Congress candidates have started campaigning against me and spreading rumours during their campaigning these days.
Cabral cited one example "one of the employees in my office, whom we call Aai, had gone through a bad situation. One of her sons died in an accident, and the other was involved in a crime, and he couldn't get out of that situation, and because of that stress, he strangled himself. There was no one to help her at that moment, and considering all these circumstances, I simply put her in our office where she was not doing special work; considering her journey and her feelings, we kept her in the office," Cabral stated.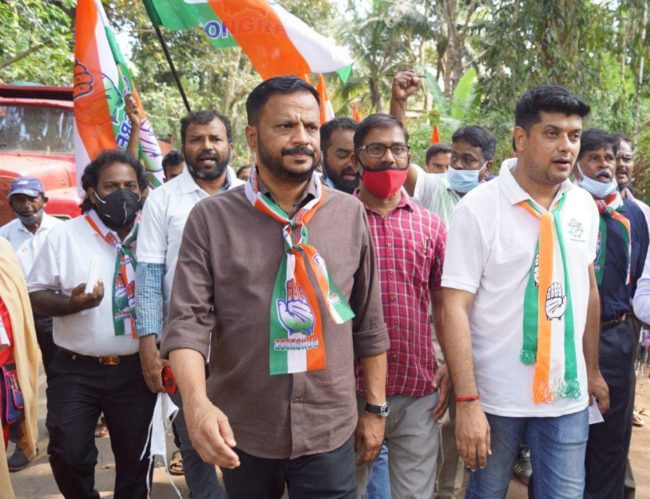 He further said the allegation made by Patkar on him doesn't have the truth.
Cabral also criticized Amit Patkar, saying, "What does he know, who has just come here, who comes here from Panaji in the morning and goes back to Panaji at night. He doesn't need to tell me about my constituency."
Cabral further criticized Patkar, stating, "We have not started working in this constituency only six months ago. We have been working for the last several years and also before the election when I was not even an MLA."
While campaigning, Amit Patkar said, "we are getting good response from the people, but due to lack of time, if we cannot reach for the door-to-door campaign in the next eight days, don't be angry about it. We will come back to your house once we get elected," Amit Patkar told reporters during the campaign.
He further said that there are many problems in the Curchorem constituency, including employment, electricity, water, sewerage repairs, and some houses are not in good condition. These are the issues faced by the people in Curchorem.
Amit Patkar said our Chief Minister says that Goa state has provided 100% toilet facilities, but even in a constituency like Curchorem, some areas are still deprived of toilet facilities.
Speaking further, he said that people are angry about the work that has not been done in the last ten years, and this time people are not happy with the corrupt BJP government.
Comment