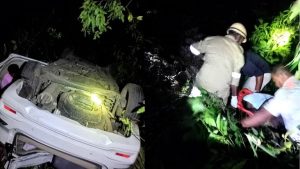 Goemkarponn Desk
CHORLA: Accidents at Chorla Ghat continue, a car in Maharashtra had a terrible accident in Chorla Ghat at night. In this accident, two people died on the spot and four people were injured.
The accident took place when the car fell into a deep gorge in Chorla Ghat. The incident took place on Thursday (01) at 10:30 pm.
According to the information received, Ertiga car (MH-48-BT- 5968) of Maharashtra met with a terrible accident at Chorla Ghat at 10:30 PM.
In this, Noor Shaikh and Sudhir Kumar (both of Maharashtra) died on the spot, while four others were injured. Valpoi fire brigade personnel rushed to the spot and pulled out the injured.
There is information that the injured have been admitted to the hospital for treatment.
The accidents at Chorla Ghat did not stop. Due to various incidents of accidents, this ghat is becoming a death trap.
Despite a ban on plying of heavy vehicles from Chorla Ghat area between Goa and Karnataka, it has been noticed that the order by North Goa District Collector is being flouted.
The district collector had ordered to stop heavy traffic from Honda, Sankhali area between Goa and Karnataka a month ago. However, heavy traffic has been banned from the Anmod-Ramnagar area due to ongoing road work.
Due to this, the District Collector had modified the order and approved heavy traffic from 10 pm to 5 am to prevent this from affecting the market in Goa. It was clarified in the order that there will be no heavy traffic on this road from 5 am to 10 pm.
Recently, the Karnataka Authorities have blamed the Goa Government for the pathetic condition of the Goa-Belagavi Chorla road for the delay in handing over possession of the Ghat section to the National Highways Authority of India (NHAI).
Govind Karjol, district in-charge minister, said the NHAI is not proceeding with the construction of the road as Goa State has not handed over the road under its jurisdiction.
Comment