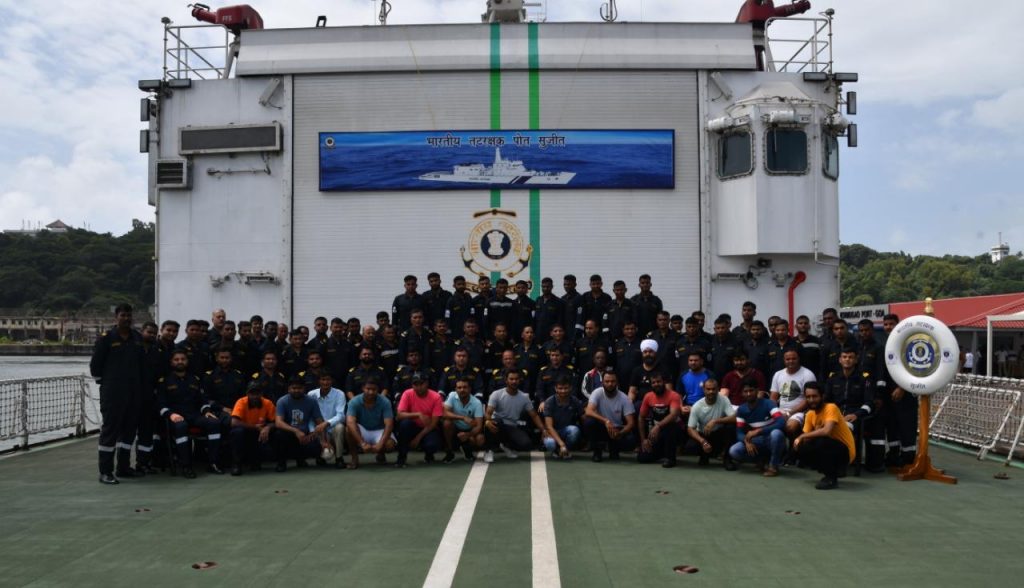 Goemkarponn desk
VASCO: The Coast Guard ship ICGS Sujeet on Saturday afternoon arrived at the Mole berth of Mormugao Port and handed over the 19 rescued crew of MT Parth ship to coastal police for further formalities and medical management
The African captain of MT Parth ship has said that he was thankful to the Coast Guard who responded in quick time to save the lives of his crew while adding that it was the right decision to abandon the ship as it sank moments later after the crew had escaped on a life raft.
"The ship was moving towards Mangalore with Bitumen Cargo, and as we were sailing, the weather was rough. We realised at 5 am that there was a listing due to the inflow of seawater, and even as we tried the de-ballasting and pumping of water, a double amount of seawater was ingressing in the ship tilting it behind control. The air vent had broken down, and water was coming inside the tanks through the drainage area. We had to take a quick decision as the situation was out of control and the ship was bending almost at a great angle; finally, we had to abandon the ship after informing our authorities and sending a distress signal. I feel it was the right decision because the ship sank moments after we were rescued by Coast guard authorities. " said the Captain.
The Coast Guard Sujeet ship captain Manish Kumar Negi said that the ship MT Parth had almost sank when they reached the site.
"We were on a routine deployment, and we saw that MT Parth had almost sunk and another ship MT Khalid was assisting rescue operation by disembarking the two crew members while the other 17 crew were onboard the vessel. Our ship sent a rescue boat and safely disembarked all the other 17 crew members and got them on our ship. Besides our ship, there was another ship ICGS Apoorva and a CG Dhruv helicopter which was also diverted to render assistance to the distressed vessel. We rendered assistance and rescued all the 19 crew who had abandoned the ship in a life raft, against high swell and extremely rough weather," said Negi.
Comment