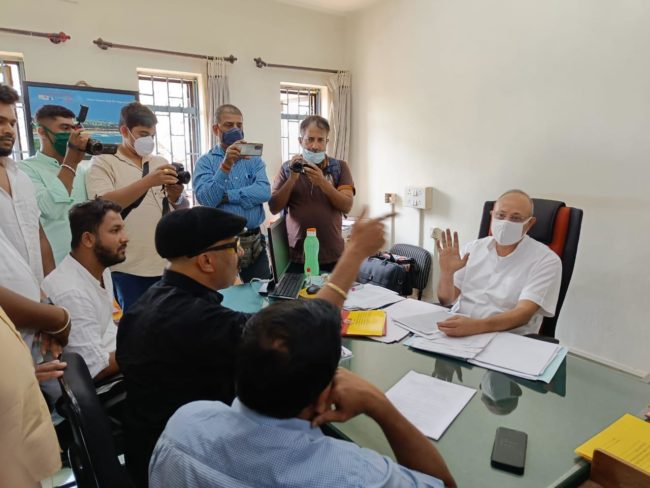 Goemkarponn desk
CANACONA: Demanding immediate commencement of repairs of the delipidated NH-66, Congress and Goa Forward Party has threatened Rasta-roko at ten places if the works are not commenced by 1st March.
Interestingly, a joint delegation of Congress and Goa Forward led by GPCC General Secretary and Canacona candidate Janardhan Bhandari and GFP General Secretary and Spokesperson Prashant Naik met the PWD Executive Engineer Dattaprasad Kamat and submitted Memorandum regarding pending NH-66 highway work from Dharmapur to Polem on Thursday.
The delegation, which also consisted of GFP Leader Vikas Bhagat, Canacona Congress Block President Pralay Bhagat, Canacona Youth Congress president Vaishnav Pednekar & others literarily gheraoed the PWD Engineer, who tried to explain the delay by the contractor in taking up the works and his last ultimatum to the contractor to start the repair works in ten days.
However, the delegation was in no mood to accept the explanation and instead questioned the Officer for not issuing a show-cause notice to the contractor for not adhering to the terms and conditions of the tender.
Bhandari, who was more vocal, repeatedly questioned the engineer for keeping silent while the contractor didn't take up the works 'Due to the bad Condition of NH-66 highway, Canacona people are facing unquotable hardships while travelling on the section has become a real nightmare!.
The work order was issued to the contractor one Mr Kotari in the month of October, but till today the work has not been started; why PWD authorities are silent? Do they want people to die to take up the repairs? Bhandari questioned.
When Prashant Naik insisted on silence, the Officer informed that he wrote a letter to the contractor, but the contractor is not responding. 'Now I have written to the contractor to start the works within 10 days', Kamat said to which both Bhandari and Naik demanded the contractor start the works by 1st March itself.
Bhandari maintained that people will not keep quiet if the road is not taken up for repairs by 1st March. Naik informed PWD Executive Engineer that they will block the road at ten different places from Polem to Darmapur if works are not commenced immediately'.
Bhandari also demanded to notify and close the Highway' on safety measures if PWD cannot repair on time. The contractor to start work; finally, Kamat agreed to approach the contractor to start the works by 1st March
If works are not started by 1st March 2022, PWD will have to face the consequences whereby people will resort to Blocking the NH66 Highway', leaders reaffirmed.
Comment