Congress delegation reiterates demand for mining trucks ban on Canacona-Margao route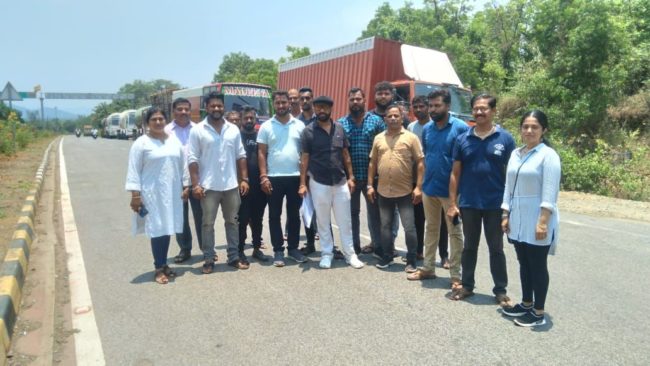 Goemkarponn desk
CANACONA: The hot-mixing works may have begun and are going-on on a war footing on NH-66 road, but persisting the mission against bad to continue, Canacona Congress reiterated its demand to stop overloaded and over-speeding commercial vehicles and Mining trucks on Canacona-Margao NH-66 section.
GPCC General Secretary Janardhan Bhandari, with other Congress functionaries and Goa Forward leader Vikas Bhagat, called on the Dy Collector (Canacona) Madhu G Narvekar and submitted a second Memorandum, reminding him to take immediate action on the memorandum submitted on 24th March to ban traffic of overloading, overspeeding commercial vehicles and mining trucks as cases of accidents are increasing due to rash traffic on the Canacona to Margao route.
Newly joined Dy Collector and SDO Canacona Madhu Narvekar (also holding additional charges of CMC Chief Officer and DRDO(South) Project Officer) gave a patient hearing to the congress and Goa Forward delegation led by Janardhan Bhandari.
Bhandari states that the mission against bad roads continues, demanding to restrain overloading, over speeding, (mining trucks)/commercial vehicles, endangering commuters' lives on Margao Canacona Highway imposing a blanket ban.
On Tuesday itself, Bhandari also led a delegation and submitted a second memorandum to the Chief Secretary and other Government authorities to appraise the danger of overloaded and over-speeding commercial vehicles on the narrow Cuncolim-Canacona Road, which cause traffic congestion on Margao-Canacona roads every day, thereby causing immense problems to commuters, students & others.
Bhandari demanded to install weighing machines on all the border gates to check evasion of taxes and demanded stern actions against the violators.
He also demanded a blanket ban on mining trucks on the Margao-Canacona road until all problems are sorted out and sought a strict vigil from Transport Dept. to avoid mishaps on this route.
Dy Collector as the Taluka chief of Disaster Management Authority*
assured us to do the utmost in his capacity by providing all possible help to the people of Canacona under his office', informed Bhandari.
In the meantime, Bhandari also visited Palolem to take stock of the situation that arose due to Monday night cyclonic winds, and later on met the Assistant Engineer (Electricity) and discussed the urgency in resuming the power immediately and also highlighted the shortage of staff which creates hardships to the electricity officers to meet the challenges.
Meanwhile, as part of a campaign on a mission on bad roads, a group led by Bhandari proceeded to the Polem checkpost and stopped heavy vehicles/transportation.
Bhandari, however confirmed that, '
Today we stopped heavy vehicles transport with the help of Canacona Police Inspector and his staff at Pollen check post due to on-going hot mix of the road from Gulem to Margao.'
'Due to this heavy vehicle transportation, it creates obstacles to the on-going work and delays the developmental work….we also request concerns authorities, requesting to make a proper schedule for transport. Authorities also agree with our proposal', informed Janardhan Bhandari.
Comment