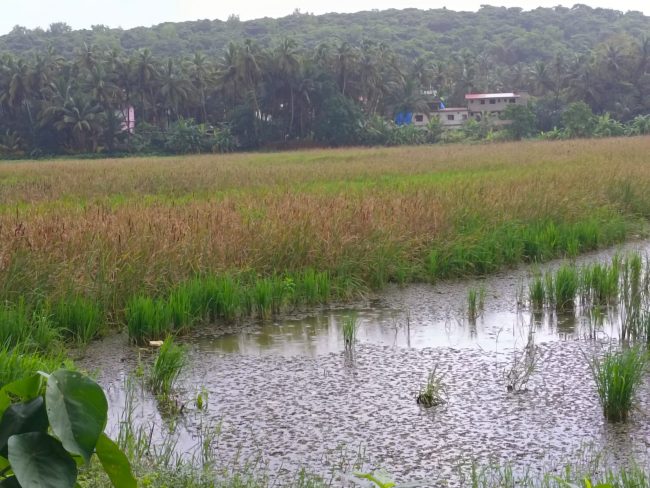 Goemkarponn desk
CORTALIM: Farmers from Cortalim village are irked over the water logging problem in their paddy fields. Paddy fields remain infested with green moss and wild weeds.
There is no greener pasture on any side of the road for Cortalim farmers.
The paddy fields that once gave rice to the local farmers have now been infested with moss, wild weeds, and rainwater. Farmers were dismayed as their MLA Antonio Vas had promised to bring acche din, but in contrast, the fields have rained uncultivated this year.
When contacted by local farmers from Cortalim village, they were upset about the present situation, which spoiled their enthusiasm to do farming activities in their field. Farmers were very annoyed that despite their farmers' club president being an MLA, they couldn't save their paddy fields from drowning under clogged rainwater.
Incarnacio Moraes, a Thane farmer, said that he used to grow his paddy fields every year. But it is unfortunate that this year he, along with other farmers from his area, wasn't able to grow crops as the fields have submerged under the clogged rainwater from both sides of the road.
He further said that MLA Antonio Vas gave his machinery every year for tilling and other farming activities, but this year the machinery was not put by the MLA in the fields as the field's soil turned swampy, and the machinery would trap under the swamp. Therefore this year, the majority of the paddy fields were not cultivated," Incarnacio added.
Another lady farmer Christine Monteiro said that this year they are not cultivating their fields as the fields have been infested by wild weeds.
She further said our farmers' club president is our own MLA, but despite this fact, most farmers could not cultivate their paddy fields this year.
Another senior citizen Carmina Monteiro said that their family has fields, but nobody was able to do farming this year since heavy rainfall clogged our fields. The drains are overflowing, and the excess rainwater is not going out from the cross drains, which have been choked.
Repeated efforts were made to contact Cortalim MLA Antonio Vas to know what steps he has taken this year to sort out water logging in the paddy fields of Cortalim, but MLA Vas was unavailable for his comment.
Comment