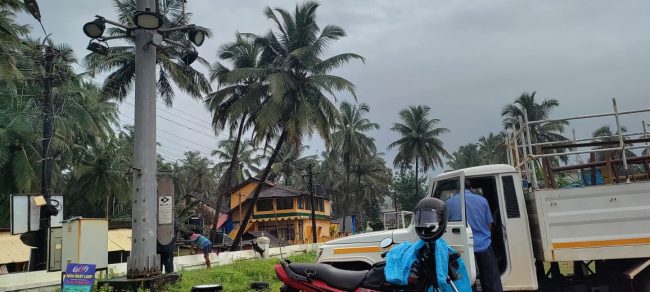 Goemkapronn desk
CANACONA – After a month-long gap, Goa Tourism has finally repaired the defunct High Mast Lamp on Saturday at Agonda.
According to sources, the high mast installed by Goa Tourism just across the village Church ground, centrally providing illumination all around the locality, has been non-functional for about a month now.
The lamp, besides lightening up the main 3-roads junction point, also illuminated the surrounding residential areas.
Villagers, as done in the past, have dialled the numbers provided at the foot High Mast tower base but to no avail.
The maintenance contract party Nanutel however, landed on Saturday and repaired the defunct lamps, finally restoring the illumination.
According to the contractor personnel, their repair and maintenance contract with the Goa tourism department, which had tendered for installing the high mast lamps, is valid and maintained for another one and half years or until the contract is renewed further.
The Goa Tourism Development Corporation, whose role is restricted to Tourism activities, have taken the challenge for the installation of High mast lamps all over the Goan beach coasts, numbering about 85- odd HM lamps.
GTDC had instead, without the involvement of the Goa Electricity Department, outsourced the installation and maintenance of all these Highmast lamps to two different companies.
Comment