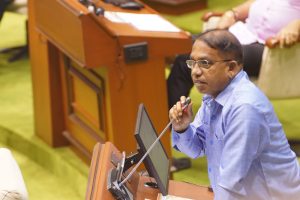 Goemkarponn desk
PANAJI: Water Resource Development (WRD) Minister Subhash Shirodkar stated here that the subject of having a Tiger Reserve in the State and the Mhadei river diversion should not be mixed.
"The State's Tiger Corridor is now subject to a policy decision by the government. We are powerful enough to defend our position in court with regard to the Mhadei river water issue, he remarked during the State Assembly's ongoing Monsoon Session.
He added that the PRAWAH committee has been successfully formed by the administration.
"This represents our administrative level accomplishment. Anyone can now request an examination. Now, MLAs or NGOs can provide the PRAWAH Committee with their demands, he said.
On a legal level, he said that the administration had been successful in having the case scheduled to be heard by the Supreme Court on November 28 of this year.
"I think it's a significant accomplishment that we were able to establish the Mhadei PRAWAH committee, he remarked. "Goans have the right to voice their concerns about the Mhadei water diversion before the committee. The first member has arrived, and the others will follow soon. Even better, you can request an inspection in front of the Mhadei pravah committee.
In the Assembly on Wednesday, the Opposition legislators argued that declaring a tiger reserve in Goa would support that state's position on the Mhadei water diversion.
The hearing of Goa's appeal against Mhadei will take place on November 28 as a result of Goa's continued pursuit of the issue before the Supreme Court. All states must submit their opinions to the SC by this date, according to the SC. And I have no doubt that Goa will succeed," added Shirodkar.
Supreme Court of India had admitted the Special Leave Petition (SLP) filed by the State of Goa. The SLP challenges the award of the Mhadei tribunal.
The Supreme Court has scheduled the hearing for this matter to commence from November 28, 2023. During the proceedings, the Supreme Court also requested the order of the Wild Life Warden to be presented before the court.
Additionally, the Supreme Court has granted a four-week period to file any additional evidence related to the matter.
Comment