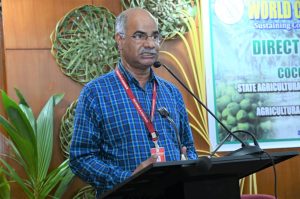 Goemkarponn Desk
PANAJI: Farmers, Government Support and Consumers are the three key players for sustaining of Coconut sector for present and Future Generation said Shri Nevil Alphonso, Director, Directorate of Agriculture.
He was speaking on Celebration of World Coconut Day Organized by Directorate of Agriculture in collaboration with State Agricultural Management and Extension Training Goa and Agricultural Technology Management Agency North Goa today at Krishi Bhavan Tonca Caranzalem. The theme for the year 2023 is Sustaining Coconut Sector for the Present and Future Generation.
Explaining about the three key players for sustaining of Coconut sector for future Generation Alphonso said Farmers should use modern technology for growing Coconut production. Secondly, Government's support can also help farmers in many ways and thirdly every consumers and citizen should try to use coconut in their day to day life so that will persuade the farmers to increase the coconut production. Speaking further Shri Alphonso said People in Goa mainly use coconut for cooking, making coconut oil and making desiccated coconut.
To create awareness for farmers about handicraft product that can be made using coconut shell and husk, display of handicraft product has exhibited today .Farmers can also generate income by selling coconut shell which will also help in increasing coconut shell industries in Goa he added.
Coconut is consider as traditional plantation crop of Goa and also called as "Kalpavruksha" and hold an essential place in the life of people of Goa the Director stated.
Shri Sharathkumar G, Technical Officer, Coconut Development Board, Bengaluru addressing the gathering said ever year 2nd September is celebrated as World Coconut Day. Stating the importance of Coconut Shri Sharathkumar said it is well suited for ecological maintenance and can preserve biodiversity compared to other plant this it is a unique crop in entire plantation crop.
Technical Bulletin on Coconut was also released on the occasion of World Coconut Day.
Various Technical Session were conducted such as Scientific Coconut Cultivation by Shri. Kishor Bhave, Project Director, ATMA – North Processing, Packaging and Marketing of Coconut by Shri. Vinod Atkari, Assistant Professor Goa College of Agriculture, Ela, Old-Goa and Schemes for Coconut Development by Shri. Sharathkumar G, Technical Officer, Coconut Development Board, Bangalore.
Smt Pratama Rane was felicitated on the occasion for her participation in Jackfruit 'Festival organized by Agricultural Technology Management Agency (ATMA) North -Goa in association with Raj Bhavan, Goa and Directorate of Agriculture.
Prizes were also distributed to the winners of Coconut Cooking competition.
Also present on the occasion were Shri Chandras Naik Desai,Managing Director ,Goa State Horticulture Corporation Ltd and  Shri Anant Hoble, Deputy Director (SAMETI) .
Smt Pallavi Shetye Assistant Agriculture Officer compered the function, Shri Sandeep Fal Desai, Deputy Director of Agriculture (Horticulture) welcomed the gathering, Shri Srikant Mule, Deputy Project Director, ATMA North Goa proposed the vote of thanks.
Comment