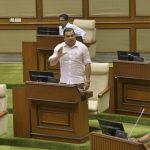 Goemkarponn desk
PORVORIM: Tourism Minister Rohan Khaunte today has assured to take action
illegal water sports activities at Baina and Bogmalo.
"I assure to take action against illegal water sports activities at Baina and Bogmalo. The Government has formulated a Policy for regulation of water sports in Goa to regulate and monitor the entire water sports activities in the State," said Khaunte.
He said that notified guidelines for ensuring the smooth functioning of the "Q"-system managed by the water sports associations on the beaches of Goa.
"Department has undertaken a surprise check to verify if the operators are abiding by the watersports Policy and Queue system guidelines, and further action deemed fit shall follow after completing the hearing and proceedings under relevant sections of Law," he said.
He further said that the Department of Tourism had deployed 46 nos. of Tourist Wardens, including 03 nos. of Taluka Level Supervisors, on the various beaches across the State of Goa to check and stop illegalities/nuisance by illegal hawkers/touts/vendors.
Besides this, Khaunte said that IRB Police Personnel, including 03 nos. of PI's, 03 nos. of PSI's, 11 nos. of Head Constables, 02 nos. LHC's, 40 nos. of PC's and 04 nos. of LPC's total 63 nos. have also been deployed for this purpose.
"There is no provision of audit for maintenance of Tourists Places and amount spent on the same is NIL. The Department is actively considering active surveillance and monitoring of the beach areas under the Integrated Beach Management concept for which the preparation of estimates etc., is underway," he added.
The minister said that the beach wardens posted on beach stretches conduct inspections on the cleanliness of beach stretches every day, and such stretch has to be cleaned by the Beach Cleaning Contractor, based on observation of the warden.
Comment