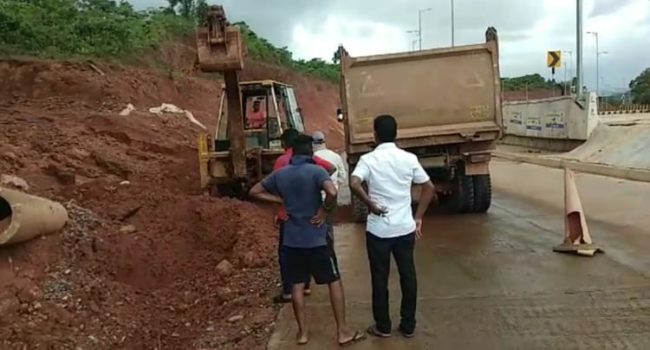 Goemkarponn desk
VERNA: First rain showers lead to the washing of the road and the landslide at the Verna slope on Friday night. Cortalim MLA Antonio Vas conducted a site inspection with PWD engineers and demanded DBL contractors clear the highway road and take precautionary measures to avoid landslides in Monsoon.
On Friday evening, with heavy rain showers in the Cortalim area, the landslide and washing of the road were witnessed by the commuters at the Verna slope, where the flyover work is in progress.
Many motorcycle riders fell on the road due to the landslide and mud, which washed off the main road causing a traffic jam on Friday night on one side of the road at Verna slope.
Vas told reporters that he rushed at the site at midnight when he got the information about the landslide and washing off the road at the Verna slope near the flyover. He expressed shock about the work carried out by the DBL contractor.
Vas further demanded that the work be done correctly and said that the highway road needs to be cleared where the landslide had taken place, and the mud road has washed off, and the mud has come on the road, making it dangerous for the two-wheeler riders.
He also pointed out that the contractor should take precautionary measures to avoid landslides in Monsoon.
When questioned about the past inspection at the Santram stretch in Cortalim, Vas said that much of the work promised by the contractor has not been done, and he will once again be going to remind him about it. I am from Cortalim village, and I don't want my villagers to suffer," he added.
Earlier, MLA Vas put an earth mover machinery to clear the mud on the road, which had come due to the heavy rainfall and mudslide. He got down in the trench and saw the damage caused due to the landslide.
Comment