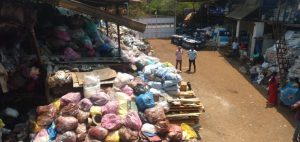 Goemkarponn desk
PONDA: The temple village of Kavlem, in Ponda taluka, is sitting over a time bomb of several dangerous scrap yards. This tiny village has around more than 16 scrapyards operating.
These huge scrapyards near Petrol Pump at Dhavalim is an open invitation for tragedy.
This yard has materials like paper, plastic bags, and barrels; add to this, they have a kitchen and room where the owner and workers reside.

If there is a short circuit or fire incident, the fire department would not even get a chance to rescue them.
Secondly, they have even obtained GSTIN numbers for starting their various business as the scrapyards face the road. However, all the scrapyards operating illegally in Panchayat jurisdiction, said Sarpanch. They have neither certificates of pollution, Panchayat NOC, nor fire NOC.
Kavlem villagers have expressed concern over scrapyards and want them removed. Locals said since Panchayat is incapable of taking action, locals say Government should shift them to Industrial Zone.

Sarpanch Manuja Naik, after inspection, said the scrapyards are illegal and were inspected today as the issue was raised during Prashasan Tumchya Dari Programme held at Panchayat Premises.
The Deputy Collector had issued notice for inspection in Presence Officials from Ponda Mamlatdar, Panchayat Secretary and Panchayat body.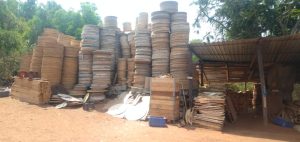 She said we do not get any income and that locals want all these scrapyards removed. She said Panchayat had taken action against scrapyards. However, they approached Court and managed to get a stay.
It is learnt that some locals are permitting scrapyards in their open spaces. However, the scrap owners now even started shops obtaining GSTIN in a risky manner. Their families also stay in scrapyards.
Kavlem villagers, at a gram sabha in January this year meeting, had expressed grave concern over the scrapyards operating in the Kavlem Village Panchayat jurisdiction and demanded to clear the nuisance from the village.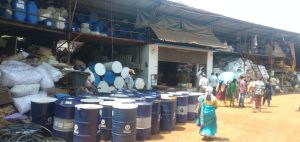 The villagers said the village is sitting on a time bomb of scrapyards and, for the safety of the villagers, demanded to clear them immediately.
They pointed out that one of the huge scrapyards is located between the Dhavali petrol pump and a residential area. The scrapyard is packed with material, including empty barrels used to store chemicals, highlighting the horrific incidents of scrapyards catching fire in various parts of Goa.
The villagers demanded action from the Panchayat, Deputy Collector and Goa State Pollution Control Board and Health Department.
The locals questioned whether there was any inspection by the Fire Department team as some of the scrapyard located near the petrol pump.
She said, "When panchayat had issued demolition notices to all the illegal scrapyards, their owners challenged the panchayat order in the court and managed to get a stay on demolition of the structures or buildings from which they are operating."
Comment