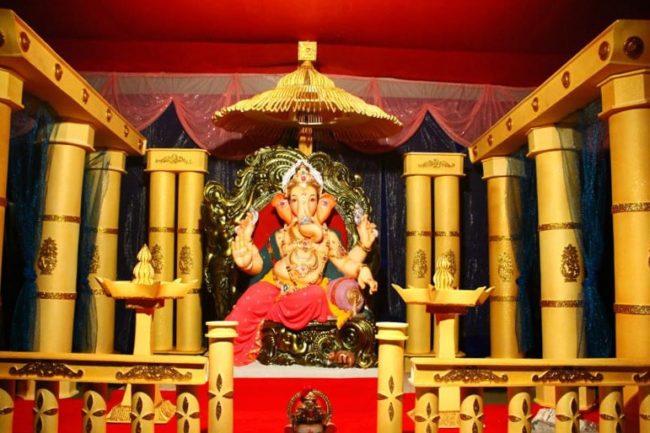 Goemkarponn desk
PONDA: In the backdrop of the Covid pandemic and third wave consecutive second year, there is also a low-key Ganesh celebration by Sarvajanik Ganeshotav Mandals in Ponda City.
Ponda's three prominent Ganesh Mandals will celebrate one and half-day celebration curtailing its eleven days annual festival.
The committee decided to celebrate in a simple manner this year also in the backdrop of the Covid19 pandemic, said President Dilip Dopeshwarkar President Sadar Ponda Kranti Maidan Ganeshotav Mandal.
The Ganesh Festival this year will be celebrated on September 10.
He said the Ganesh Festival is celebrated every year at Kranti Maidan Premises located in front of Ponda Police Station with the participation of thousands of people every year; however committee this time decided not to celebrate it at a public place but instead to celebrate in the Hall of the Committee situated in building behind Saraswati Temple Tisk Ponda with following all guidelines of Covid 19.
The celebration will be held by observing social distancing and in a simple manner. Most of the cultural programmes, competitions have been cancelled.
The Zareshwar Sarvajanik Ganeshotav Mandal at Bus Stand Ponda celebrates the nine-day festival but curtailed it to one and a half days last year. This year, a d half day low key celebration on the backdrop of the Covid pandemic, said its Santosh Naik.
Similarly, at Upper Bazaar, the Budhwar Peth Ganeshotav Mandal curtailed its eleven days festival to one and half days. This year also, it will be one and half days said it's President Shankar Naik.
There are around 35 Sarvajanik Ganesh Mandals in Ponda Taluka, and the majority would celebrate low key celebrations, with most of them one and half days.
While Ganesh Celebration in villages is in every household, it will be one and half days, five days, and seven days as it will be restricted to family only.
Comment