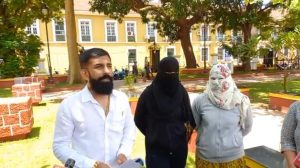 Goemkarponn desk
PANAJI: The 27 year old women, who had accused Margao based doctor of molestation, today alleged that she is been pressurized to withdraw the case. The victim has appealed people to stand for her.
"I had fever, and he asked to remove my inner garments and touched me inappropriately. We are not making this up, we are not mad, we are educated women and we just want justice for what happened to us," said the victim.
She further said that whatever has happened to her is not right and that there must be many other women, whom he probably done this too.
"People are afraid to come forward. We went to Digvijay Chawan for support because I do not have a father. I told to help me in this case. Now he is getting pressurized and name is getting spoilt," she said.
The victim said that they have put a case of extortion against him for money and that they have been getting pressure to withdraw the case back.
"I want to make an appeal to people to stand for us," she said.
Meanwhile, Digvijay Chawan said that the whole of Medical community has been together and they were just three of them.
"For them it is nothing, as it has not happened to them. The police have done the investigation according to law, we have also abided by the law.," said Chawan
Chawan said that he not called the family of doctor for extortion, if I was wrong, then I will move out of this case.
A 77-year-old doctor has been booked for allegedly molesting a 27-year-old woman in Margao in Goa, a police official said on Saturday.
The woman has said in her complaint that he molested her during a medical check up on August 16, the official informed.
Comment