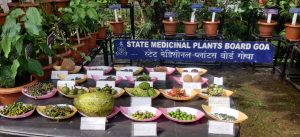 Goemkarponn Desk
CANACONA: Stating Medicinal plants have been useful since ancient times, Canacona Municipal council Chairperson Ramakant Naikgaunkar appealed, not only to plant more medicinal plants for the sake of planting, but ensure its growth and wellbeing is monitored effectively.
Naikgaunkar was speaking at Medicinal Plant Display And Distribution programme at Canacona Health Centre, Chaudi on Saturday.
Earlier inaugurating the program Speaker Ramesh Tawadkar Speaking on this occasion, congratulated the CHC for taking the initiative and further said. 'In pre-Eras, these plant were widely used to treat our all kinds of sicknesses and ailments. Everyone should be aware of the power of traditional medicines knowledge and it is equally important to have faith in it.'
Medicinal plants were distributed by dignitaries present on this occasion.
On this occasion, CMC Chgairperson Ramakant Naik Gaonkar made a special mention of monitoring the growth of saplings once they are planted for the better out-put to the society.
CMC Deputy Chairperson Nadin Fernandes, Sarpanch of Khotigao Panchayat Anandu Desai, Deputy Sarpanch Mrs. Punam Gaonkar, Panch Mrs. Vridhan Velip, Deputy Sarpanch of Loliem-Polem Chandrakant Sudhir, Poinguinim Sarpanch Mrs. Savita Tawadkar, Deputy Sarpanch Sunil Paigankar, PanchMahesh Naik, BJP South Goa Incharge Sarvanand Bhagat, besides Councilors Hemantkumar Naik Gaonkar.
Sara Shamba Naik Desai, President of Canacona BJP Block Vishal Desai, General Secretary Diwakar Pagi, BJP Mahila Morcha President Vinda Satarkar BMC Shristhal Chairman Vinay Tubki, Health Officer Community Health Center, Canacona Dr. Jose Tavaris, Canacona Police Station PI Chandrakant Gawas, and doctors of various departments of the CHC, medical staff, well-wishers and locals were present in large numbers on this occasion.
Medical Officer Dr. Diwakarji Velip was the program coordinator while Masnoj Tiwari proposed the vote of thanks.
Comment