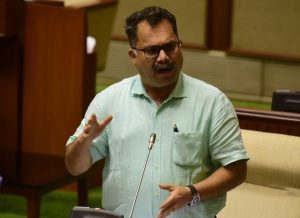 * Environment Minister Nilesh Cabral says ""I don't know how Amit Shah has made this statement when we have not discussed it. Even the Chief Minister never discussed it."
* WRD Minister Subash Shirodkar says statement "unacceptable"
Goemkarponn desk
PANAJI: Two of Goa's Cabinet Ministers – Environment Minister Nilesh Cabral and WRD Minister Subash Shirodkar have condemned the statement made by Union Home Minister Amit Shah over the Mhadei diversion issue.
The BJP government in Goa is under attack since the Central Water Commission has granted permission to the Detailed Project Report of Karnataka for the disputed Kalsa-Banduri dam.
The situation further heated up on Saturday after Amit Shah said that the Central government had resolved the dispute between both states.

"I condemn the statement made by Home Minister Amit Shah. First, when we met him (on January 11), this particular thing (resolving a dispute) was not discussed. We had requested that permission granted by CWC should be withdrawn. We never discussed giving our consent to DPR," Cabral said.
"I don't know how Amit Shah has made this statement when we have not discussed it. Even the Chief Minister never discussed it. I condemn the statement tooth and nail. We are against diverting water from the Mhadei basin," he said.
He said that the Goa government's delegation will meet Amit Shah again after the House Committee meeting. "That time, we will raise this issue and ask who (among us) consented to Karnataka's DPR?" he said.
"I condemn the statement. I am firm in my statement. The award was given for drinking purposes, which is also challenged in court. However, the statement made by him is for irrigation purposes. You can't use water for irrigation at all," Cabral said.
He said that the Goa government would fight the case in court to protect Mhadei.
WRD Minister, who heads the House Committee on Mhadei, said the statement was unacceptable
He said, "no discussion on diversion of Mhadei had taken place when the Goa delegation met the Home Minister."
During a rally in Belagavi on Saturday, Shah said: "Sonia Gandhi, during a speech in Goa in 2007, said that the Congress government will not allow Mhadei water diversion to Karnataka. In 2022, Congress, in its manifesto, stated that Karnataka would not get a single drop of water from Mhadei. Today, I am here to tell you that the BJP at the centre has resolved the long dispute between Goa and Karnataka over Mhadei and allowed the diversion of Mhadei to Karnataka to satisfy the thirst of farmers of many districts."
Comment