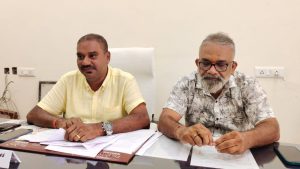 Goemkarponn Desk
MORMUGAO: Mormugao Municipal Council ( MMC ) Leo Rodrigues and his deputy Vice Chairperson Ramchandra Kamat on Saturday refuted allegations levelled against them by residents of Desterro on Friday afternoon
Addressing media , MMC Chairperson Leo Rodrigues appealed to BJP Party president Sadanand Tanavade to intervene and resolve the power struggle issue between Councillors and MLA Sankalp Amonkar in Mormugao Constituency.
" We are doing our works but there seems to be an issue with Amonkar supporters who have now joined the BJP. The supporters attack our original BJP Karyakartas and remove videos to malign our image while trying to show that we do nothing .
The supporters of Amonkar appear to be working against the BJP and are trying to put us in bad light. We have tried to work a solution but nothing seems to work out and we are frustrated now after our Karyakartas are being attacked. We urge BJP Party president Sadanand Shet Tanavade to intervene and find a solution " said Rodrigues
MMC Vice Chairperson Ramchandra Kamat while refuting allegations said that while Sankalp Amonkar had joined the BJP, his supporters continued to have emotions for the Congress party
"Sankalp Amonkar won the elections and he later joined the BJP which is a good thing. His supporters have however failed to come to terms and are still seen attaching PM Narendra Modi on social media groups and it is worse when they make baseless allegations on a BJP councillor who is working.
I have always answered everybody's calls and i have never failed to do my job. I have got a lot of development works that are lined up and no matter what Amonkar Supporters say, I will be remembered as the Councillor who did a lot of development in the ward. Amonkar supporters have now become the booth President and are openly beating up Karyakartas which is a wrong thing.
As far as their question on wether i will support the BJP or not in the upcoming Lok Sabha elections, i want to tell them that i have been a BJP Karyakarta for over 25 years and BJP has a fixed vote bank of 9000 votes in Mormugao Constituency. Any vote above 9000 for the BJP in the upcoming LoK sabha elections can be considered as Amonkar and his supporters contribution to the party.
Finally they had been asking my resignation, i want to tell them to not get involved in baseless talks but work instead for development by leaving behind the Congress soft corner inside them . I don't care about such people and i am willing to resign tomorrow if the party tells me to " said Kamat
Comment