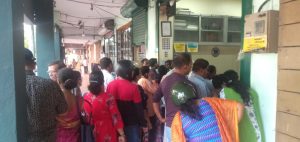 Goemkarponn desk
PONDA: People waiting in queues at various centres in queues for linking their Aadhaar Car with their PAN Card before 31 March, which is the last date for linking, have urged the government to extend the time for linking as well to reduce the fines from Rs 1000 to Rs 100 to Rs 200.
The government had earlier extended the deadlines on many occasions, and people further demanded to extend it to complete the task.
For the past few days, people have been standing in queues to complete the task of linking Aadhaar with PAN. Those people who have not linked their PAN-Aadhaar to date will have to pay a fine of Rs 1000 fine to the IT Department.
With around seven to eight days left before the deadline, people are running out of time to complete tasks. Those who stand in queues said Bank Charges RS 1500, and so they are standing in queues in the private centre where Rs 1300 is charged for linking.
There is fear among them that if they miss the deadline of 31 March, then their PAN will be inoperative and they also will have to shell out Rs 5000 for further processing.
Aam Admi Party leader Adv. Surel Tilve said this Rs 1000 fine would not be affordable to the common person in India and cause them hardship.
He said in India, many people are not highly educated or low income.BJP government always caused hardship to the common person. Government should extend the time for linking Aadhaar with PAN as well as should reduce the fines from Rs 1000 to either Rs 200 to 300 and should not be above Rs 500 as it will not be possible for all ordinary people. He said Rs 1000 fines mean common labourers will lose their two days' salary. He said the government should clarify to people what will impact on public if they fail to link Aadhaar with PAN before the given deadline of 31 March. He said there is a need to create sufficient awareness of Aadhaar -PAN linking.
Comment