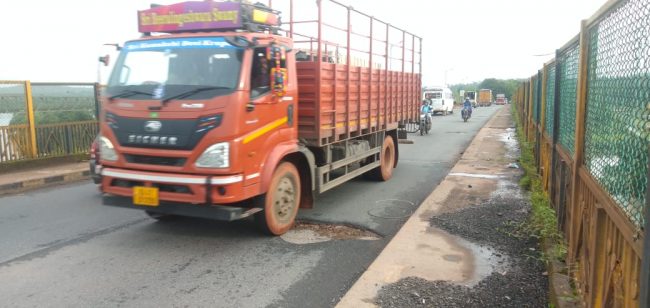 Goemkarponn desk
PONDA: It's a repair and use policy adopted by authorities in case of the already "overused" Borim Bridge.
Though locals for many years complained that Bridge is showing signs of crumbling, the NH officials claim the bridge repair work is carried out from time to time.
It is learnt from sources till the work on existing NH roads; bridges are completed in Goa, no work on new roads or bridges will be carried out.
People said the potholes are causing more damage to the bridge when loaded vehicles fall on pothole-ridden Borim Bridge, creating fear in commuters' minds.
There have been plans for a new Borim Bridge and bypass roads. Still, people feel these alternative bridges; bypass should be started at the earliest as Borim is the only bridge connecting Ponda and other Talukas with south Goa and one of the busiest bridges with flow of traffic.
It's risky to travel on a pothole-ridden road on Borim bridge. Locals and commuters demand immediate repairs. Says bridge road should be repaired and made of concrete.
The locals demand that only the road on the bridge should be only made of concrete as Hotmix carpeting on concrete base wash away, resulting in worsening of road condition.
Already according to locals, the bridge that was built in 1986 has been overused due to the diversion of heavy traffic from the Cortalim Zuvari bridge since past more than ten years, and so people fear to travel through this bridge although the government conducts bridge maintenance.
Sunil Naik bike rider, complained that several Borim bridge potholes pose a risk to vehicles. Every day thousands of vehicles travel through Borim Bridge.
It is difficult to avoid potholes for bike riders as there is a constant flow of heavy traffic from behind and in the opposite direction.
The bridge is used by vehicles commuting on Margao Karwar, Mangalore Bangalore, besides vehicles towards Belgaum.
The employees commuting daily from Ponda on Margao travels on bike and faces hardship in avoiding potholes. Bike riders said are chances of accidents as while avoiding one pothole, the other potholes pose a risk of accidents. A few years back, one woman riding a pillion on bike fell and died when a bike rider tried to avoid potholes on the bridge.
Comment