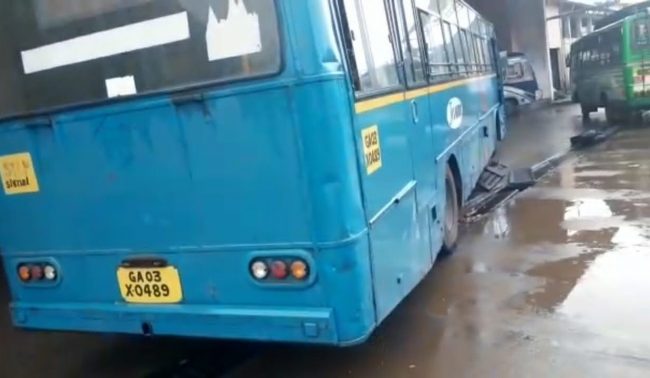 Goemkarponn desk
CANACONA – Kadamba Transport Corporation (KTC) accused of poor maintenance of its Bus-Stands, got the taste of its own medicine after a Kadamba Bus got itself trapped into a protruding Iron rail plate used to cover the storm gutter at KTC Bus-stand at Chaudi.
KTC bus got so badly trapped that it literarily took a day to get remove it after freeing its wheel and getting the bus plate repaired.
Interestingly, the poor maintenance of the KTC Bus stand at Chaudi is time and again highlighted by the media, but the adamant corporation showing little concern for the public property has kept the same vulnerable and threatened public safety.
Kadamba Bus (GA-03 X-0489) slated to head to Margao got stuck in the storm gutter and the iron rail plate got entangled in the bus., Stranded passengers were forced to take another bus to continue their journey.
Several private buses besides other transport using the Chaudi bus Stand are doing so at their own risks, especially the iron rail plate having snapped from its location was threatening to hit all the vehicles entering the Bus-stand.
A few months ago, the steel grating over the storm gutter on the Bus-stand used by the bus (Private and KTC ) entering the bus Stand has broken and snapped dangerously protruding out, and the management responded by placing a plastic stool to warn of the dangers.
Instead of repairing, KTC management has responded by placing a red-coloured plastic stool over the damaged and exposed tailgate over the gutter, to warn the bus drivers entering the Bus-stand.
The plastic stool placed at the exposed place remained for some months together, after which the rail-plate was re-fitted after welding it to join, however, the same got broken yet again and remained so, till the Kadamba Bus itself got trapped in the web on Thursday.
Comment