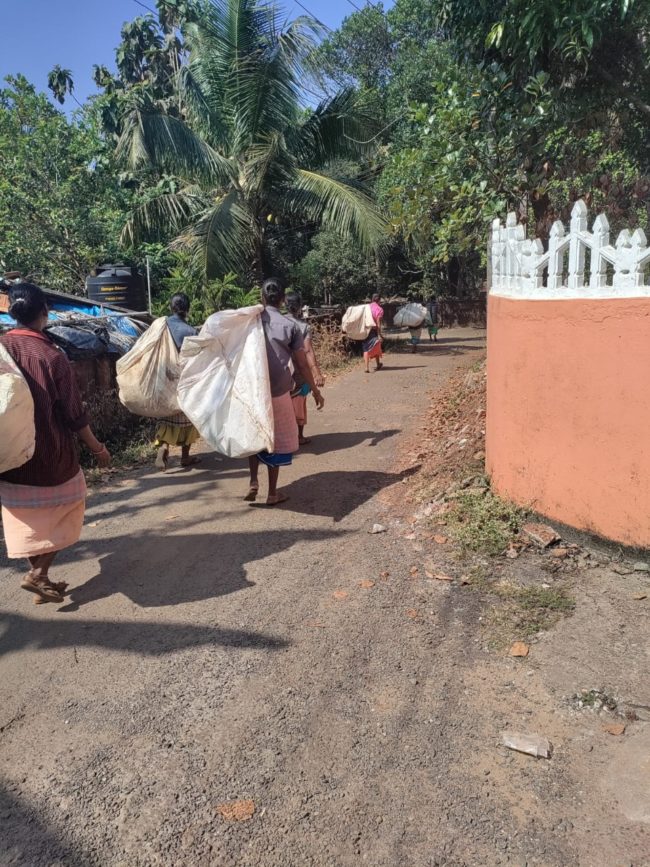 Goemkarponn desk
CANACONA: A big group of Non-Goan women involved in rag-picking scanned and collected all rags, plastic, non-biodegradable waste from the Agonda and nearby villages of Canacona during the year-end.
Some villagers see it as a blessing in disguise, whereas others are apprehensive about such groups of ragpickers frequenting their residential areas and feel it is a matter of caution.
Some villagers from Agonda village were happy to see that the left out non-biodegradable waste of 2021 is being taken away by the group of non-Goan ragpicker women.
These women are being seen frequently coming into the residential areas of the villages and picking plastic and dry waste in their big bags.
These women coming into the villages because they are being driven away from the beach areas alleging that they are creating nuisance on the beaches to the tourists.
Another local named Anton said that 'With little or no cleanliness measures in most of our residential areas, it's a welcome practice for these rag-picking women to pick up rags and pieces, including plastics strewn all around in the areas. Anton reasoned that their errands help in the cleanliness of our areas'.
Meanwhile, many residents are also apprehensive of ragpickers frequenting their areas. Residents have also complained about these ragpickers taking away valuable items kept outside on the pretext of picking up wastes.
Some people often chase the ragpickers away, complaining their valuables have been taken away by them during their previous stays.
However, many others welcomed their initiative, saying that it's only because of ragpickers that their areas become free and avoid turning their places into garbage infested areas.
When contacted, a woman from a rag-pickers group pleaded, stating, 'We are not taking away anything valuables of yours, but only picks up things thrown out by people, and opened their large bags carrying on their shoulders to have a look. The bags contained dirt-filled broken plastics, plastic bottles, and other materials.
Another woman informed, "we are staying in char-rasta, and our women in different groups are going through residential areas and picking up things unwanted and thrown out of their houses. We are not picking up, nor have we picked up any valuables of the people found out in the open, but if anyone else robs it, please do not target us, and do not use our photos as proof to ask us questions."
The Taluka's coast, including the world-famous Palolem beach and travellers top choice Agonda Beach, which otherwise were frequently infested with the non-Goan ragpicker's groups menace, however, breathed better' off in the last two years. Non-Goan men and women of one community were known to sell various things, including fake apparel and clothing, inviting beach-visitors complaints of harassment.
Incidentally, while Canacona municipal areas have their own garbage collection system, coastal villages like Agonda, Khola, Poinguinim, and Loliem-Polem have area-wise garbage collections. However, still, many residents continue to dump their wastes outside their houses or throw it out in the isolated open areas.
Comment