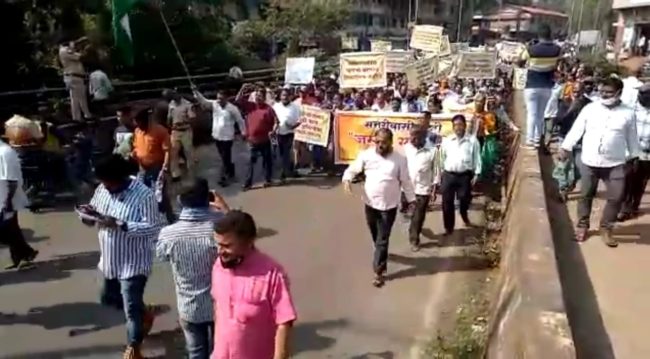 Goemkarponn desk
Valpoi: The Villagers of Sattari tolday launched a massive protest over the land ownerships rights
Hundreds of villagers from Mauxi, Pali, Shel Melauli, Caranzol and other areas participated in the protest in Valpoi town.
Health Minister Vishwajit Rane's efforts of pacifying and convincing Sataarkar's against the protest bore no fruits as the people defied him to participate in the rally.
Speakers at the rally said that the people of Sattari have been fighting for ownership rights since 1972.
"We have been cheated by the government. Our leaders have never taken up the land ownership issue to the Assembly," they said referring to Rane family.
They also criticised Vishwajit Rane's statement that only 100 cases were pending.
"He is a habitual liar and a jumping jack. He has to be removed now. Natural justice is equal to everyone one may feel he is superior today and can do whatever he wants but tomorrow he will be brought to justice," said a speaker.
The Sattarkars vowed not to be bogged down by the political pressure.
"We are not fighting against any political leader or government but this is the fight for our land rights. We were owners of this land today, tomorrow and will always remain. It is our land not government's our ancestors have cultivated this lands," they said.
One leader also felt he does not see justice coming to them through court also as the petitioner has passed away.
Others also pointed out If land can be mutated in named of IIT Goa why not in the names of Sattari bhumiputras.
The villagers also chanted gharane for success in their fight for their right.
Comment