Savarkar was among the first to fight  Western propaganda: Goa CM 
~ Savarkar was a rationalist who advocated a casteless society in India: Sampath ~ West masqueraded propaganda as history, thrust it on India: CM
Goemkarponn desk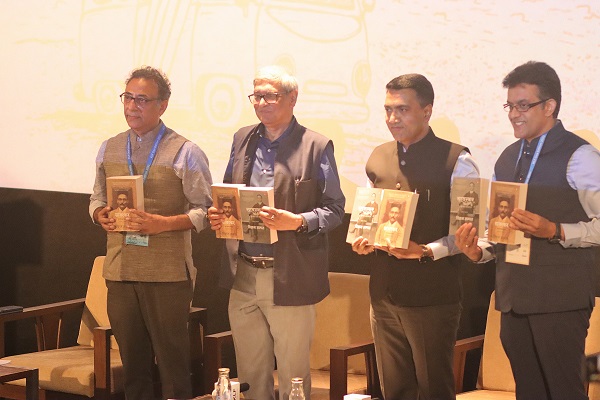 Noted historian Vikram Sampath, whose book 'Savarkar (Part 2): A Contested Legacy, 1924-1966, was released at the function, also spoke about the life and times of Savarkar, describing the firebrand revolutionary as a multi-faceted, multi-dimensional genius, who had led a "stormy" "tempestuous" life and was a complex character who simultaneously meant many things to many people. 
The function was attended by Dr Pramod Sawant, Dr Bibek Debroy, Chairman, Economic Advisory Council to the Prime Minister of India, Shri Sumant Batra, eminent lawyer, Founder, Indian Cinema Heritage Foundation and the curator of the KLF. 
Speaking on occasion, Sawant said: "Unfortunately, in our country, history has been forced upon us by the propaganda of the West and what they thought about us. They thought that we were the land of snake charmers; they thought we were the poor's country. But my question is, did they invade us because we are poor? The answer is definitely no". 
"The first person to challenge this vicious propaganda involves Shri Vinayak Damodar Savarkar. Through his book, which is '1857 ka Swatantra Samar', he challenged the might of the British Empire and wrote about the glorious patriotism and the one who fought bravely against the British Empire," Sawant also said. 
Savarkar's biographer, Sampath, said that his research for the book had taken him to archives in London, Paris, and Berlin, scanning through lakhs of documents, archival and legal papers in multiple languages to piece together the story of this "fascinating character, this much-maligned and misunderstood patriot and a brave son of mother India". 
According to Sampath, Savarkar was "a freedom fighter who also suffered the worst of excesses and tortures" in the dreaded Andaman prison, to which the freedom fighter was sentenced to 14 years. 
"A very zealous social reformer who advocated a completely casteless society and the unification of the Hindus, an active politician who served as the president of the All India Hindu Mahasabha for several years, particularly those very, very, you know, intense years leading to the partition of the country and eventual freedom of the nation," Sampath said. 
"(He was a) rationalist to the core, a sensitive poet, writer, a philosopher, a theatre playwright, amateur historian, a journalist, a man who wore so many different hats. (And) also, an accused in Mahatma Gandhi's murder case from which he was honourably exonerated from numerous courts on numerous occasions. So, I think I've made my case, ladies and gentlemen, as to why writing the story of this man was something that was quite a huge challenge," Sampath said. 
Comment