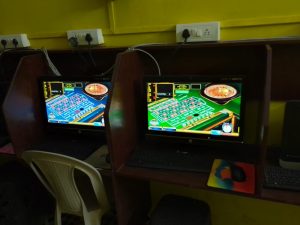 Goemkarponn Desk
PONDA : Ponda is a famous for its temples and known as temple City but slowly it is likely to lose its identity because the number of liquor shops and illegal mini casinos are slowly growing in comparison to temples and tea hotels.
To add to this casino like gambling which is expected far away from locality is almost reached at doorstep of Villagers at Curti Khandepar. In such incident locals shocked to learn about illegal casino operating for past three months without any fear of law.
The Ponda police booked a 39-year-old individual named Praveen from Maharashtra for allegedly running a 'mini casino' involving computer games and online gambling in his shop.
During the raid on Wednesday evening, the police recovered over Rs 2 lakh in cash as well as several gaming equipment during the two-hour operation. The shop is situated along the Bethora-Ponda route near Sapana Park, next to Laxmi Restaurant.
The raid took place after several parents reported that their children had lost money on illegal gambling. This matter was also brought up in the most recent Curti-Khandepar Gram Sabha, where the locals denied granting approval for the business and highlighted their concerns regarding the establishment of a small casino.
Reports regarding the operation of illegal gambling establishments in Goa have been surfacing since the past few months. The president of the Goa Forward Party, Vijai Sardesai had claimed in April that these illegal casino operators had started their operations after shutting down for a short period of time.
"The illegal casinos operating in Goa are all back after shutting down briefly during the Assembly Session where I raised the issue," said Sardesai.
The Chief Minister of Goa, Pramod Sawant, however, had announced that strict actions would be taken against these illegal gambling establishments. Moreover, during his Budget speech in the Assembly on March 29 he had announced that the state would introduce new regulations including for offshore casinos.
The incident has shocked the locals. The locals said casino was operating since past three months and Police were not aware about it. It is only after complaint raid was conducted. The locals allege three more casino operating in Curti and the issue was dominated in Gramsabha.
Not only Casino the locals now also express concern over growing retail and whole sale liquor shops near residential area. The Villagers of Kavlem in ward 4 said despite oppositions by locals the Kavlem Panchayat has permitted two liquor shops. This shows that now everything is reaching at doorstep.
There are cases and raids on ganja which also shows that some antisocial element trying to addict youths targetting to make easy money. Liquor shops means invitation to crime. Large migrant too consume it and says Goa Mei Daru Sasthi hai ..The crimes ,accidents increases after consumption of liquor.
Rocky Dias social workers said situation is worrisome. He said government should provide more sports grounds, Library for reading newspapers and books so that youths spend their free time and help in Nation Building. He also said there is should be control and limit as to how many liquor shops be allowed in Village to protect future generations.
Comment