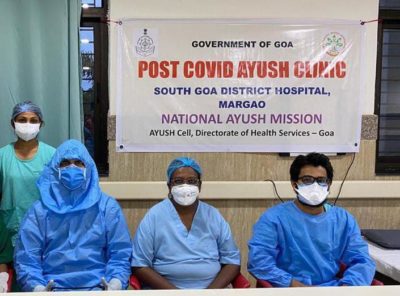 Goemkarponn desk
MARGAO: Dr Rita Vaz, mentoring around 450 patients at Post Covid Center so far, says patients require at least 45 days rest after recovery from COVID19.
Speaking to Goemkarponn, Dr Vaz said that After recovering from COVID19, many patients experience fatigue, shortness of breath, insomnia and other ailments.
She has started a post-Covid Centre at Hospicio Hospital for such patients and about 450 patients have been treated so far.
According to Dr Rita Vaz, the second wave of COVID19 is now beginning to recede.
"But unfortunately a large number of people have been infected than ever before, and the death toll has risen. Now that the number of active patients is declining, the practice of yoga and naturopathy in Goa at post COVID19 centre has helped to a great extent in recovery," she said.
The Post Covid Center was started on 22nd October 2020 at Hospicio Hospital, at Margao.
The centre offers naturopathy and yoga guidance along with medical consultants and physiotherapists.
Patients are guided every Thursday from 2 to 4.30 pm. Only 20 patients are treated and guided per day.
For this, patients need to register for treatment by calling 8669557995 between 10 am and 12.30 pm.
There is a significant rise in the number of patients to avail of this facility. Sometimes when 35 to 40 patients come at a time, she says.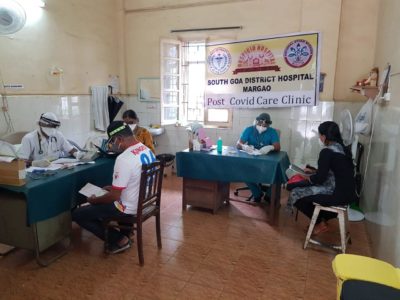 At times it becomes chaotic and difficult to attend to such a large number of patients, therefore discussions are also underway to add one extra day to post Covid centre, she stated.
At present, the number of patients coming for post-COVID treatment is higher than the number of patients undergoing home isolation, said Dr Rita Vaz.
Patients with home isolation get tested at the nearest health centre or district hospital OPD and 17 days after recovery are checked again by the medical officer.
Registering for post COVID treatment only after consultation will reduce the hassle of patients coming for treatment, said Dr Rita.
Dr Lad Covid, Coordinator, Post Covid Centre, says, patients suffering from coronary heart disease require 45 days after recovery, and patients who have been treated at the hospital for at least three months after experiencing excessive stress may suffer again.
What care should be taken after recovery?
After recovering from COVID, patients need to rest for a few days to regain their body energy.
She says It is also important to eat a healthy protein diet, get a good night's sleep and keep a calm mind.
Medicine consultants guide you on which medications to continue along with yoga.
Different types of breathing exercises are taught, which will help to calm the mind and concentrate, said Dr Rita.
She said that physical exercises should be avoided for some time after recovery as the body loses energy when it heals from COVID.
"Therefore, patients with home isolation should avoid cycling, going to the gym and lifting weights immediately after recovery for at least 45 days and patients undergoing treatment at the hospital for at least 3 months," she said. "The body should be rested to regain its strength, during this time it is necessary to focus on keeping the mind calm through breathing exercises and yoga," she said.
She has also launched a YouTube channel called Teleyoga Goa to help patients who have recovered from COVID19 to learn and benefit from yoga, pranayama and breathing exercises.
"Patients are also benefiting through this YouTube channel and the response to it is overwhelming. Patients are also sent videos on WhatsApp," she said.
Comment