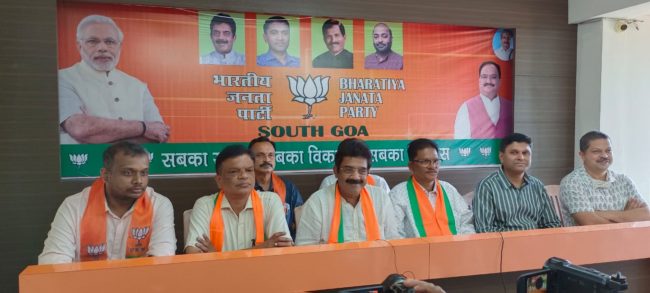 Goemkarponn desk
MARGAO: BJP Goa president Sadanand Shet Tanavade advised AAP's Arvind Kejriwal to focus on his manifesto rather than making statements against Prime Minister Narendra Modi. Tanavade alleged Kamat's involvement in Mining blunders.
Goa BJP president Sadanand Shet Tanavade during the press conference in Margao, said there was a good environment for BJP during the election.
Yesterday PM Narendra Modi held a public meeting in Mapusa, and virtually it was displayed in Southern constituencies of Goa.
"I would like to thank all people present for the public meeting on Thursday," he said.
Criticising Congress Margao candidate, Tanavade stated that Digambar Kamat's falsehood has been witnessed by the people of Margao for many years. He had asked where acche din is? I would like to ask him what he has done in his tenure? Said Tanavade.
Tanavade further alleged that Kamat was involved in several blunders of mining. Manohar Parrikar, during his time, went to people and took their suggestions and implemented it.
These points were also included in the manifesto back in 2012. We had given several schemes to the common people, and Kamat should see these things and should see it as an acche din.
BJP govt has done various works such as new Zuari bridge, Pernem to CANACONA highway etc. works were done in BJPs tenure. Kamat should not make any misleading allegations about BJP.
Tanavade said we gave 22 Sankalp (challenges) this 2022 elections, which are included in the Sankalppatra. "We had also prepared our report card and put it before the public which we completed work," he said.
He said three gas cylinders will be given free per year, Dayanand samajik scheme amount will be raised, housing loans for women will be given in a 2 per cent interest rate.
Kamat is the main person behind the blunders that happened in the mining. BJP will start mining corporation, and mining will resume in full swing. Similarly, several other promises have been given.
Tanavade further condemned the statement against Prime Minister Narendra Modi made by AAP Delhi Chief Minister Arvind Kejriwal. He should only focus on his manifesto. AAP won't be even able to open its account for this election," Tanavade claimed.
Comment