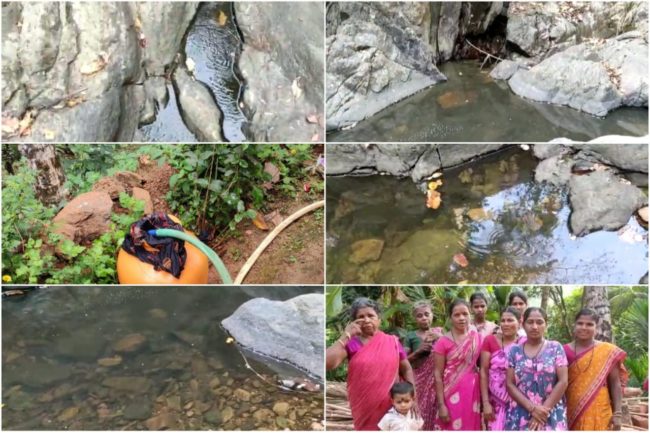 Christanand Pednekar/
Goemkarponn desk
SANGUEM: Sounds strange but true; a village which is just a few kilometres from the Selaulim dam, which supplies water to the entire South Goa, faces a drought-like situation every year as it does not get even a drop of water to drink.
Strange, isn't it? When the Chief Minister of Goa, Dr Pramod Sawant, boasts that Goa is the first State to cover Har Ghar Jal. The reality is very different; there is Nal (tap) but no Jal (water), CM Sir.
Here is the story of Gokuldem from Barcem village panchayat, which has been facing an acute water shortage problem for many years. On one side, the Goa govt boasts about "Har Ghar Jal", but the ground reality here in Gokuldem tells otherwise.
The remote village of Gokuldem is far from the winds of globalisation and modernisation; there is an everyday struggle to fetch water to drink due to the scarcity of water for decades.
Unfortunately, the successive governments have failed to bring any perks of development to these people who are deprived of a basic necessity for survival: water.
For the last 30 years, there have been only assurances given to locals by the panchayat and the politicians, but the people's struggle continues.
Goemkarponn team visited the village and met local people, who said that politicians and the PWD water supply department always took them for granted.
Locals here feel pain when they see some politicians and local representatives play with their innocence for getting votes in exchange for hollow promises to bring Acche din.
Gokuldem women said that promises of providing better infrastructure, which is the right of every citizen, are still not fulfilled due to irresponsibility, lack of commitment and dirty politics being played by the politicians.
The women further stated that the Selalulim dam is hardly a few kilometres away from the village, but there is no water supply to this village from the dam.
Further, due to this scarcity of water, villagers take their own initiative to find water for drinking or household use. For that, people remain completely dependent on natural resources such as springs, wells, or ponds, mostly found in forests or hilly areas in the village.
People use plastic pipes, which are mostly used for gardening. These pipes of thousands of meters are used to bring that water from the pond or spring to their houses for personal consumption.
In the summer season, the locals said the situation is even worse as they have to climb three kilometres of the hill to fetch water.
"Overall, we need to walk six km (up-down) to get a few litres of water," they said.
Comment