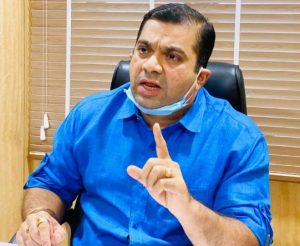 Goemkarponn Desk
MOPA: As the new year revellers leaves Goa beaches in mess and littered, Tourism Minister Rohan Khaunte expressing unhappiness towards the behavior of the visitors said that the tourists need to be "responsible".
Khaunte was speaking exclusively to Goemkarponn at the newly inaugurated Manohar International Airport at Mopa.
"In the last 8 months of the government, we have been framing lot of policies. Government has been talking about responsible & sustainable tourism and when we talk about responsible tourism we expect the tourists who come here to enjoy but at the same time be responsible," said Khaunte
He further said that post new year what we have seen (Bottles on beach) is something which happens every year in Goa and this is not something which is new.
"This something which is not welcome to the state but we need to improvise and we need certain things together." he added
Khaunte said that Goa needs all stakeholders comming together to work out a plan.
"So when you talk about tourism we have transport, Police and excise and so many things which need to come together to have a proper plan to support the backbone of tourism,' he added
The minister said that when we talk about tourism and you finding bottles on beach, you have a public and maintenance act which we have already promulgated.
"If you want to act we need the police. If you need to stop the bottles on the beach you need excise. There are lot of things we are working," he added
According to the Tourism Minister, his stress on safe and clean beaches and integrated beach management were plans to ensure that all stakeholders work in tandem to bring a change for good in the tourism sector.
"We need to ensure that we get good tourists. As long as we don't get good facilities, good tourists will not come. The way things have happened in Calangute and other areas, I don't think this reflects of quality… Our beach cleaning agency had to do double work to clean up the mess left behind…," he said.
"We need tourists who behave and are concerned about the environment. We need people who spend and support the economy and with that intention we need to improve our facilities," he said.
Khaunte also questioned the lackadaisical approach of the police in taking action against illegal tourism activities despite the Tourism Department writing to them.
Comment