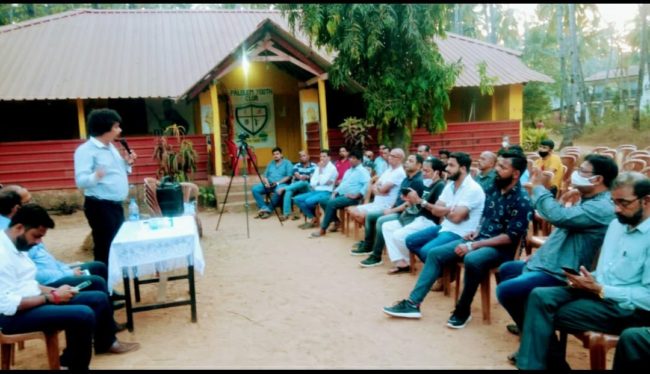 Goemkarponn desk
CANACONA: Reviving their demands to scrap the Major Port Authority -2021 Bill (MPA-2021), Environmentalists held an awareness meet at Palolem on Port Limits Wednesday and stated a representation would be submitted to the government to scrap the anti-people Central bill.
The MPA Bill 2021, when implemented, will be a draconian law, given to authority, an autonomous body which neither the Central or State Governments will have control of it, and sole owners will be the Board of Directors handpicked by MPA owners, including Adhani (having around 60% stake in Ports), Jindal and Vedanta.', Olencio Simoes informed.
Simoes reminded the people of Palolem about a meeting held in Palolem in 2018 to oppose CRZ notification-2019, which has brought relaxation from 500 m to 50 m. 'This relaxation is given to ports when they camp in 50 m where tourism will be? The port limits will be 12 nautical miles and 500m from Hightide towards land, where locals conduct tourism? Asked Simoes, also General Secretary of the National Fish Workers Forum.
When people objected to GCZMA on Port Limits which according to MPA will be 12 nautical miles in the sea, All the Rivers and 500 meters inside the land, GCZMA told us they have already decided in their meeting to take back the Port Limits and it will not be part of MPA-2021.
'Now with this included and MPA Bill passed, Goa is converted into two States, one is Goa, and another will be MPA, which will have no laws about Goa, but will have their own laws.'
Rivers Talpona and Galgibaga have been nationalized in fact, our government gave them all the rivers on the platter for nationalization. In Kerala, out of 8 rivers, they demanded only three are given by the State government for nationalization. This MPA-2021 is a serious bill that will not only be a hurdle on the tourism front but the chances of eviction of fishermen, Toddy tapper families, and other coastal residents are very threatening. Take the example of Khariwada iland Baina, where removal took place. It won't be far enough, but no one will be able to do anything if eviction notices are issued as neither Panchayat's, Municipalities, TCP, Revenue Code nor any local authority can interfere'.
Simoes also reminded the people of SEZ which were refused in Goa, as these zones, once formed will no longer be controlled by governments but by their own laws.
Under MPA-2021, Coastal Economy Zones (CEZ) on similar lines to SEZs will come into effect. These SEZs will also not have any government control but what is being decided by the Board of Directors, the owners chosen by Adani, Jindal, and Vedanta under MPA-2021.
Besides Olencio Simoes( president Goenchya raponkaracho ekvot), also presented and spoke to Goenchyo ekvot member
Orville Dourado Rodrigues, Vikas Bhagat, and Prahlay Bhagat.
Previously another awareness meeting was held at Talpona, where fishermen and coastal residents were addressed.
Comment