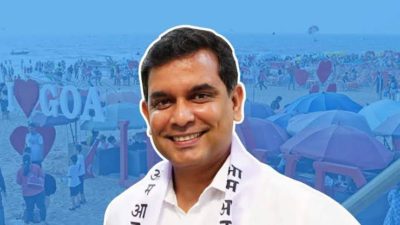 *terms BJP government led by CM Pramod Sawant as incompetant
Goemkarponn Desk
PANAJI: Aam Aadmi Party Chief Ministerial candidate Amit Palekar today slammed the Pramod Sawant led government for charging interest on water bill arrears.
Palekar also termed the BJP government led by CM Pramod Sawant as incompetant.
"Many of the bills received this month carry interest on the arrears of the unpaid previous bills, which should otherwise have been zero bills after the government decided to give 16000 litres of water free"," said Palekar
He further said that consumers who heeded the advice of Sawant asking them not to pay their exorbitant water bills issued in December last year, as there were technical errors in the computation, are now paying a price.
Palekar cited an example where a family in the Sakhali constituency received a water bill of Rs 8753 of which Rs 2775 is the new amount and Rs 5915 is the arrears. This demonstrates that the government is spreading lies under the guise of free water. Palekar argued that Sawant should be charged under IPC 420 for cheating Goans.
"People are suffering because of inflated water and electricity bills, and Sawant is clueless. It is high time that Goans stop falling prey to the BJP's false assurances, and invest in AAP, which will provide honest governance", he said.
Comment