Goemkarponn desk
PANAJI: "Arrogance at full display in BJP President Sadanand Tanawade's rude statement downplaying Opposition strength for next Loksabha Elections. He needs to remember that 67 per cent of Goans are against BJP & Dr Pramod Sawant's Government is full of Defectors," stated Congress President Amit Patkar.
BJP just retained two Zilla Panchayat seats in By-election. There is nothing to celebrate. If he is so confident about the Double Engine Government's so-called Development, Why did he not show the guts to ask the eight defectors to resign & contest on the BJP symbol? Why did he not tell the Candidate in Cortalim to contest on the Lotus symbol? Questioned Amit Patkar.
"I appeal to Sadanand Tanawade to show his arrogance with the Chief Minister Dr Pramod Sawant and compel him to give 50000 jobs to the deserving unemployed youths of Goa as promised by BJP. He should show his power and ensure that Government releases monthly assistance to Social Welfare beneficiaries in time. He should use his rudeness with the corrupt Ministers and end the "Mission Commission" of the BJP Government", demanded Amit Patkar.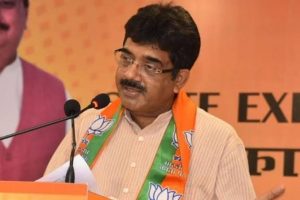 He said it is clear that BJP leadership has become arrogant after the defections of eight MLAs.
"It is unfortunate that Sadanand Tanawade feels that Zilla Panchayat election results are an endorsement of the defections. He should remember that defectors have not only betrayed Goans but have also defied God," Amit Patkar said.
BJP in Goa, ever since coming to power, has tried to suppress the people's voice. The double-engine government is all out to destroy Goa. People will teach them a lesson, said Amit Patkar.
Comment